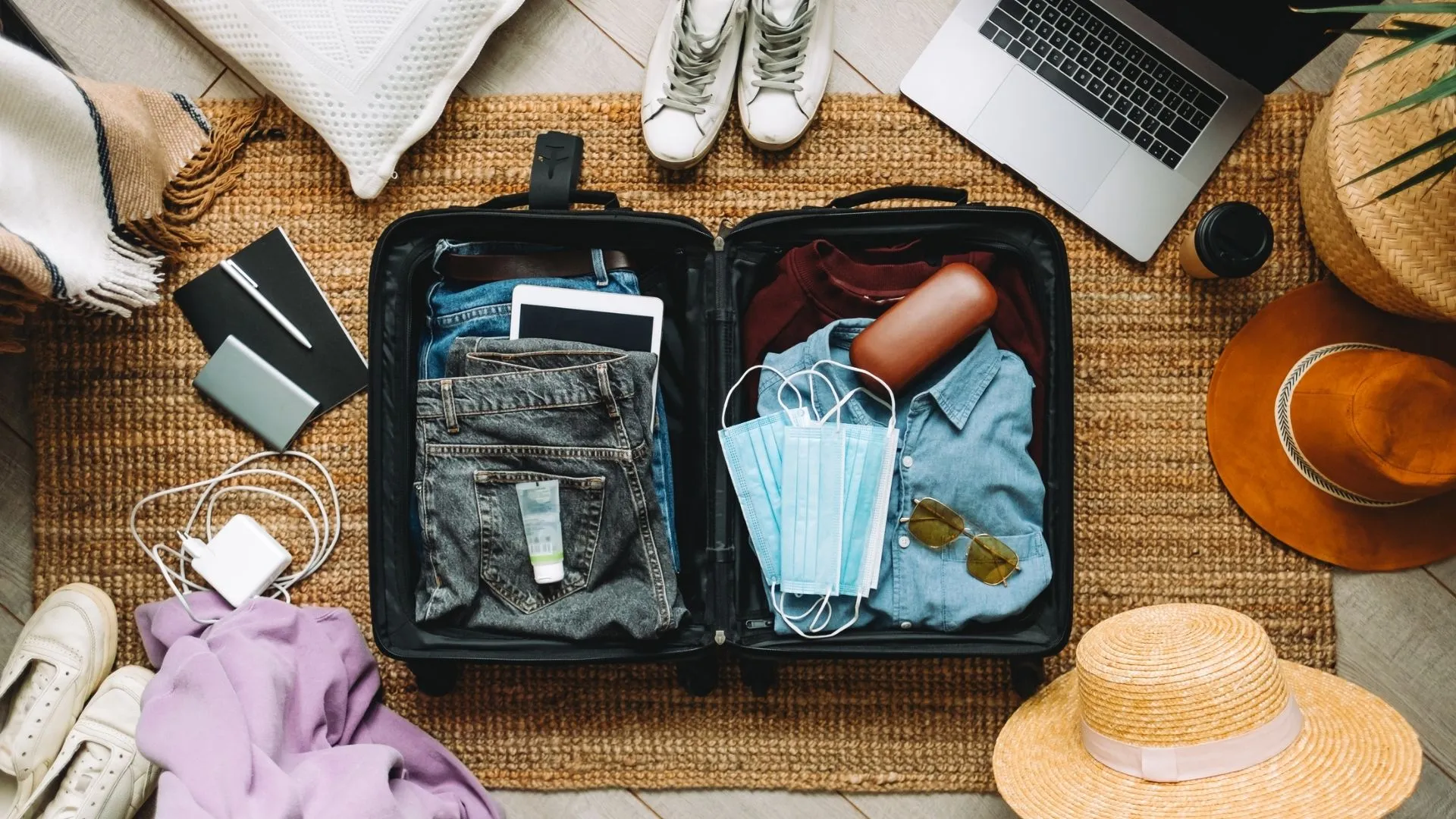 When packing for a long or short trip, keep things simple and pack only what you need. Don't overpack; if you do, you'll end up carrying around unnecessary items and wasting precious space. Keep your luggage small and compact, and don't forget about travel-friendly accessories which are useful to have while traveling.
A travel backpack is one of the easiest ways to keep everything you need at hand (purse, wallet, phone, keys, technology, passport, you name it) safe in one place. This backpack is not only perfectly compartmentalized to hold your laptop and other belongings, but it also opens from the top, giving the feel of a tote without having to carry it on one shoulder.

We may as well begin with the obvious essential that is the travel backpack. The size of backpack you require for your backpacking trip will depend on a number of factors, with the first one being how long you're travelling for.
Here are the sizes of backpack we recommend for different trip durations…
1-3 months: 40-60 litres
3-6 months: 60 litres
6-12 months: 60-80 litres
Another thing to consider is your height, if you're on the shorter end of the height spectrum you should try and stick to 60 litres or less. Key features to look our for when choosing a travel backpack include lockable zips, internal organiser pockets and an adjustable back system. A backpack with a detachable daypack will save you having to buy a separate bag for daily use.
Knowing what to pack for travelling can be tricky, so we've compiled a list of our top 20 gap year travel essentials to ensure you don't leave any must-have accessories behind! Some of the entries on this list may seem obvious, while others may be handy add-ons that you'd never even thought of packing!
You won't get very far without your wallet, and same goes for your passport on international trips. If you're prone to losing things, purchase a wallet-passport holder combo to keep them close. We like this affordable and travel-friendly pick from Amazon, which has slots for your cards, cash, passport, tickets, boarding pass, and more, plus a convenient wristlet strap.
3) Photo/ Video Gear For Travel
I cannot go on vacation without any photography and videography gear! Of course, my main camera of choice is my Nikon DSLR. I love it for my serious photography of landscapes and cities that I want to edit later.

But it's pretty heavy to carry around all the time. So, for the quick pics (and especially the night time shots) and to give me shoulder a break, I love my Google Pixel 5A. It takes AMAZING PHOTOS! It's also what I use to set up my group vacation photos. I always make sure to always bring my Gorillapod with a phone mount and a remote shutter. This gear is my secret to taking the best group travel photos! This way I avoid having to ask anyone, and taking selfies!
4) Portable Charger and All Charging Cords
A portable charger is an absolute must for travel. Keep this in your purse and never worry about your phone before the plane takes off again.
Also during your flights, you may notice that only a few airlines provide USB slots for charging your devices in-flight, so if you want to watch a feature-length film on your flight without having to spend the first 30 minutes in Arrivals getting your battery back into double digits, make sure to pack a portable battery.
It may be tempting to pack your travel adapter in your checked bag, but it's another essential you wouldn't want to be caught without in a lost luggage snafu. This Conair adapter works in more than 150 countries and gives you three outlets and a USB slot to plug into so you can keep all of your tech charged and ready to go. Just be sure to use it with dual-voltage devices only, as it doesn't convert electrical voltage.
You'll find a worldwide adapter plug to be the best option if you're travelling to multiple countries, as most styles of worldwide adapters work in over 150 countries. Some countries do have their own unique plug socket, India and South Africa for example, but these adapter types can be bought separately if your itinerary includes these destinations. Of course if you're only backpacking around a couple of countries, you may just decide to pack a couple of adapters for these destinations instead of a worldwide adapter.
6) Rain Gear for men, women and kids
If you don't mind the rain, skip this one. But if it will ruin your trip and possibly melt you, some sort of precipitation-repelling device is necessary.
7) A Copy of Your Passport (Better take photos and save in your phone gallery)
Your passport is, of course, the most important item to remember for an international trip. But you should also bring along at least one passport photo and a color photocopy of the pages with your information on the off-chance you lose it abroad.
What I personally do is, I have made a separate album in my phone where I have saved photos/ documents of all my important documents, such as passport, ID card, bank card etc. copies. So that they are easily accessible whenever I need as I am mostly carrying my phone 🙂
8) Mosquito Repellent & Bite Relief
An essential for most destinations around the world, mosquito repellent will help protect you from painful and uncomfortable insect bites. In some countries the risk of tropical diseases such as Malaria, Zika Virus, Dengue and Yellow Fever makes it imperative that you wear a good mosquito repellent, as there's a lot more at stake than a few itchy bites! For high risk areas, we'd recommend no less than 50% deet. For the unfortunate times you manage to get bitten or stung, make sure you also have some bite and sting cream or spray in your backpack.
9) Power Bank (My top priority) 🙂
Whether all the hostel plug sockets are in use or you need to charge your phone on the move, a portable power bank is a must have for any trip. Get one with USB connectivity and a re-chargeable battery so you can easily charge your USB enabled devices during your trip.
10) Anti-Bacterial Hand Gel & Wipes
You'd be surprised at how often travellers become ill due to poor hand hygiene on their travels. Avoid this by carrying a bottle of anti-bacterial hand gel around with you. Hand washing facilities aren't always readily available and if you've just been handling some dirty looking currency or need to wash your hands before tucking into a meal, you'll be glad you have some to hand. A pack of wet wipes is another hygiene essential for travelling, great for cleaning your hands, freshening up after long journeys or getting dust off your feet and legs after a day of exploring.
You never know when disaster may strike during your travels. Whether you tailor your own kit to your specific destination, or opt for a pre-made travel first aid kit, you should definitely pack a medical kit for emergencies, minor cuts, scrapes and mishaps! If you're travelling to remote areas and developing countries, you may also want to consider a sterile needle pack to accompany your first aid kit, or choose a comprehensive first aid kit that includes a set of needles and syringes. Key first aid items for travelling include; diarrhoea relief, rehydration sachets, paracetamol, anti-histamines, plasters, bandages and dressings.
One of the key ways to reduce the amount of clothes you pack is to do laundry regularly during your trip. Granted laundry facilities aren't always cheap or readily available, so another option is to hand wash your clothes using travel soap or travel detergent. Rather than hanging your clothes over balconies and hostel bunk beds, invest in a travel clothes line to hang your clothes out to dry. The twisted elastic design means that you just tuck your clothes in, so you don't need to use pegs!
13) Locks
Security is a key concern for travellers, so make sure you can always lock your backpack with a combination padlock. Get a couple of locks if your backpack has two lockable compartments, or use one for your main bag and one for your daypack. If you're travelling to or transiting through the USA, choose a TSA approved lock as this will allow airport security to inspect your bag without causing damage to your lock or luggage through forced entry. Cable locks are popular with travellers as they can be used to lock backpack zips and hostel lockers, as well as to lock your gear to fixed or hard to move objects.
14) Ear Plugs
Ear plugs are an essential for any traveller, whether it's to block out noise inside a loud plane cabin or to drowned out the sound of the snorer sleeping above you in the hostel dorm.
15) Shaving Machine & Travel Wash Bag
If you regularly use trimmer or shaving machine, then make sure you do not forget it while packing your stuff. A wash bag is essential when it comes to keeping your toiletries and wash gear organized. Depending on the length of your trip you can opt for a smaller wash bag or upgrade to a multi-compartment design for stashing more toiletries. In most destinations you'll be able to easily replace toiletries once they run out, so there's no need to go overboard on lotions and potions!
Avoid spending money on plastic water bottles at every stop by bringing along a reusable one. With the fold-up capabilities of the Nomader Collapsible Water Bottle, you won't even know it's there.
17) Sunglasses for men and women
Spending lots of time outdoors? Be prepared with sunnies. We love this go-with-anything classic style from Ray-Bans.
18) Pajamas for men and women
When you're excited about what you'll be wearing on days and nights out, it's easy to forget something to wear in between. Bring along a lightweight pair of PJs, like these from Lunya, to keep cozy in the hotel.
19) Walking shoes for men and women
Even if you've already perfectly planned all the shoes to go with your outfits, throw in one extra pair of easy walking sneakers or flats, like Everlane's The Day Glove. We promise you won't regret it when your feet start to blister from your sandals or heels.
There are hundreds of items which everyone needs, depends on if that is a male or female, kids or older, everyone has different needs. Also it depends on which destination you are flying to and the climate/ weather of the country you are visiting to. Therefore it's hard to write everything just in one article, therefore below are the bonus points where I tried to summarize the need of a traveler.
It's not easy to create a list of travel essentials, since it greatly depends on several factors, such as your destination, length of stay, and type of trip. Still, there are quite a few things you most certainly need to pack regardless of any of these factors. So, we've decided to remind you of those items that need to be packed whenever you leave home for at least a few days.
Comfort
If you're traveling by plane, you should consider bringing earplugs, since plane journeys can be rather noisy and you never know if there will be some screaming babies on board. A travel pillow is another great addition to your packing list, since plane seats are not really comfortable unless you're in business or first class. Finally, if you're at risk of DVT, bring compression socks, which help your blood flow, and make sure you avoid a medical emergency.
Documents
It goes without saying you need your passport if you're traveling abroad, as well as your tickets and boarding passes, though these are now typically available online, which means you should store them on your phone. Next, your health insurance card is a must, since you want to be prepared for a possible medical issue while away from home.
Travel bag
Your choice will depend on the amount of luggage you need to take and how you're planning to travel. Namely, you need a bag that isn't a pain to pull around and that is light enough. At the same time, you want it to be in good shape and sturdy enough for the trip. Luckily, there is a wide range of products you can choose from. Take a look at what reputable online sellers, such as Shoppster, offer and you might find a bargain.
A 4-wheeler is a great option for family holidays, especially if you need to pack jumpers, jackets and presents. On the other hand, we recommend a backpack for shorter trips. If you're flying, a carry-on bag will help you save money and time, and it might be enough for a short holiday. Finally, consider a wheeled suitcase if your journey is to include stairs or various terrains.
Equipment
We can no longer travel without various gadgets, such as cellphones, tablets and laptops, especially if we're traveling on business. What you mustn't forget to pack are the chargers for your gadgets, as well as at least one power bank if you want to be sure that your equipment is always available to you. Also, you might want to consider taking headphones, especially if you're traveling by train or plane.
Clothes
Again, your choice of clothes depends on the weather you're expecting to encounter. For a summer holiday, you need to bring T-shirts, dresses and flip-flops. On the other hand, a spring holiday requires a light jacket with a hoodie, as well as at least one pair of jeans. For the winter holidays, you need warm socks, thermals, hats, and gloves.
Toiletry and hygiene products
Apart from the regular stuff, such as toothpaste, toothbrush, dental floss, and deodorant, you should pack your favorite perfume and creams. Tissues, wet wipes, and toilet paper must also make the cut and you shouldn't forget to bring hand sanitizer.
Medication
If you're taking therapy, make sure you have enough meds for your trip, since you shouldn't rely on local stores and pharmacies, especially abroad. Also, bring some painkillers just in case, as well as antihistamines if you're prone to allergic reactions. Those suffering from motion sickness need to bring some anti-motion sickness meds, too.
Money
Some banks may require you to notify them about your travel before you fly. Also, be sure that you keep your cards in different locations to minimize the risk of all of them being stolen. You can use a money belt to keep your cash and cards safe, but make sure you never carry a lot of cash with you, especially if you're visiting somewhere you've never been before.
These are the most essential things you need to take with you specially when traveling solo. It might be a good idea to make more detailed lists for each type of holiday that you take and simply update them occasionally. That should relieve a lot of stress normally associated with packing and you won't waste so much time. If you create such packing lists, you'll see that the items mentioned here make every single one of them.
Also, click here to read some important essential travel tips for tourists.
Also, you might like to read Top 10 reasons why traveling is important for human life.
Traveling with the green ( ?? ) passport ?
Take only memories✈️leave only footprints?

If you liked this blog and it was helpful to you, then why not share it with your friends & family.

Or, if you really wanna to be more sweet, then subscribe to my YouTube channel, watch my travel videos and leave your valuable comments under my videos.

Click here to check out my YouTube Channel and One Magic link of all my social media accounts

Stay safe & much love!❤️
Spread the love if you liked my blog