In a span of less than twelve months following the grand reveal of the DJI Osmo Action 3, the fourth iteration makes its debut. This newest addition to the action camera repertoire promises an elevation in low-light performance, augmented options for stabilization, and heightened robustness.
Unleash the Future of Action Photography: Dive into the DJI Osmo Action 4 Revolution! Enhanced Stabilization, Deeper Dives, and Unprecedented Low-Light Mastery Await. Don't Miss Out on the Ultimate Visual Upgrade!
The DJI Osmo Action 4 makes its entrance, sporting a notably amplified sensor – now at a substantial 1/1.3", as opposed to the previous 1/1.7" on version 3. This augmentation results in an expansion of pixel size from 1.6µm to an impressive 2.4µm. Maintaining its preexisting specifications, the lens boasts a wide 155° Field of View (FoV) and retains its f/2.8 aperture.

Mirroring its predecessor, the Action 4 retains the capability to capture 4K video at a remarkable 120 frames per second, accompanied by a commendable 130 megabits per second bitrate. For optimal video quality, the option of recording in 10-bit D-Log M format is available. Catering to your storage needs, the camera now supports microSD cards of up to 512GB in capacity (a notable advancement from the prior 256GB), granting an extended recording duration before necessitating data transfer to a computing device.

Directing your attention to the emblematic "o" within the "action" label on the front façade, a sophisticated color temperature sensor is seamlessly integrated, enabling automatic adjustments in accordance with fluctuating lighting conditions. The auditory experience is enriched by the inclusion of a trio of onboard microphones, while further audio enhancement can be achieved through connection of an external microphone via a 3.5mm to USB-C adapter.

In the realm of battery longevity, the camera boasts an impressive potential of recording for up to 2.5 hours, a feat even attainable within the extremities of frigid climates, withstanding temperatures as low as -20°C (-4°F). Complementing this, rapid charging capabilities empower a depleted battery to regain up to 80% charge in a mere 18-minute span. Noteworthy is the camera's newfound ability to plunge into depths of up to 18m (59ft) underwater sans protective casing, a considerable improvement from the prior 16m (52ft) capacity exhibited by the Action 3. For those requiring even greater underwater exploration, a dedicated casing is designed to accommodate depths of up to 60m (197ft).

The innovative DJI action camera now introduces RockSteady 3.0 Plus and 360° HorizonSteady features, a noteworthy enhancement. Most intriguingly, the camera captures gyroscope data, facilitating subsequent stabilization adjustments via personal computing devices, offering precise control over stabilization parameters and Field of View (FoV), where an increase in one dimension corresponds to a decrease in the other.
Regrettably, a notable omission is the absence of an inbuilt GPS receiver within the camera itself. However, DJI introduces a solution in the form of the GPS Bluetooth Remote Controller – as its name suggests, this peripheral empowers the camera to embed GPS tracking data into videos, concurrently granting remote camera control via dual buttons and a compact display interface.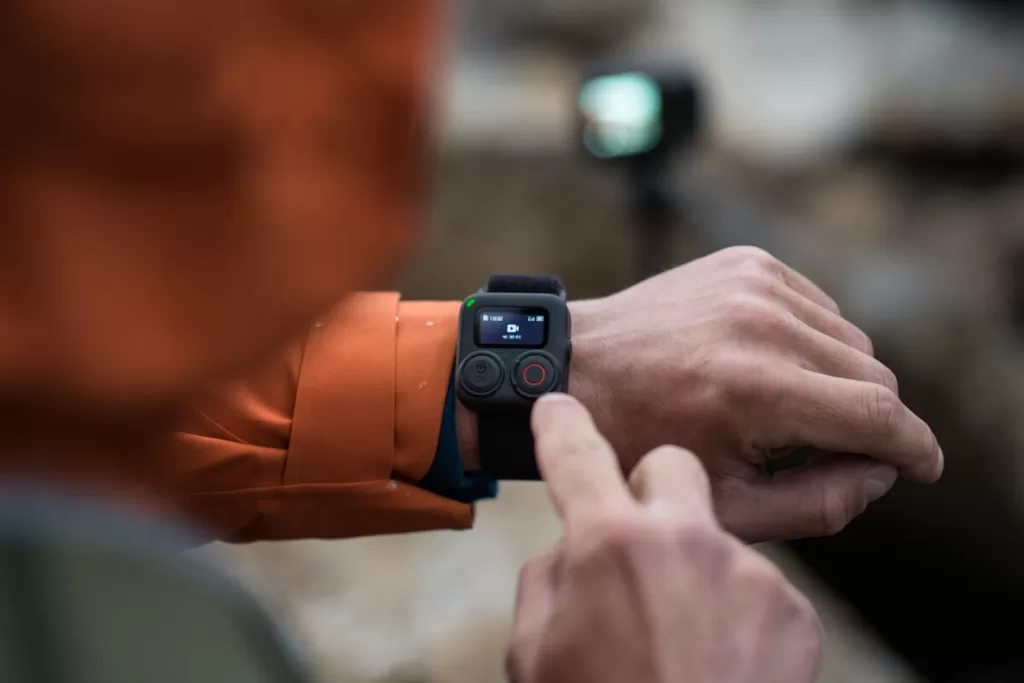 Accessible for manipulation via two touch-sensitive screens, the camera's controls are distributed across a 2.25" screen on the rear panel, boasting a resolution of 640 x 360 pixels, and a 1.4" display on the front face, encompassing 320 x 320 pixels.
DJI Osmo Action 4 Price:-
The much-anticipated DJI Osmo Action 4 is now available in the market to buy. The Standard Combo package is priced at $400/€430/£380, exhibiting an increase from the Action 3's cost of $330/€360/£310. Notably, an enticing option also exists in the form of the Adventure Combo, inclusive of supplementary batteries, a battery case, and a 1.5m/5ft extension rod, available for $500/€530/£470.
Here's a comparison between the DJI Osmo Action 4 and it's previous models:
The key features of DJI's Osmo Action 4 camera
The DJI Osmo Action 4 camera boasts several key features:
Dual Screens: It features front and rear color screens, allowing for easy framing and capturing of shots from various angles.

RockSteady Stabilization: Advanced electronic image stabilization technology ensures smooth and steady footage even during intense movements or action shots.

4K Video Recording: Capable of recording 4K video at up to 60 frames per second, providing high-quality, detailed footage.

HDR Video: It supports High Dynamic Range (HDR) video recording, enhancing contrast and detail in challenging lighting conditions.

Waterproof and Tough: Designed to withstand harsh environments, it is waterproof up to a certain depth and resistant to dust and shocks.

Voice Control: Allows hands-free control using voice commands for capturing photos and videos.

Timelapse and Slow Motion: Offers creative options like timelapse and slow-motion recording for unique visual effects.

Custom Exposure Settings: Users can manually adjust settings like ISO and shutter speed for greater creative control.

Dual-Microphone Setup: Equipped with dual microphones for clear audio capture even in noisy surroundings.

QuickSwitch Button: Provides one-touch switching between shooting modes for quick and seamless transitions.

Expandable Storage: Supports microSD cards for additional storage space to accommodate longer recordings.

High-Quality Images: Offers high-resolution photos with its 12-megapixel sensor, delivering sharp and vibrant images.

Wide Dynamic Range: Provides a broader range between the brightest and darkest areas of an image, ensuring better exposure in complex scenes.

Intuitive Interface: User-friendly interface and touchscreen controls make navigation and settings adjustments straightforward.

Wireless Connectivity: Built-in Wi-Fi and Bluetooth allow for easy sharing of content and remote control through a mobile app.
These features collectively make the DJI Osmo Action 4 a versatile and capable camera for capturing high-quality videos and images, especially in action-packed scenarios.

You might like to read these as well:
What to Consider When Buying a Camera for Your Blog or YouTube Channel
Top 3 Best Action Cameras in 2022-2023
Top 19 Travel Essentials to Pack in Your Travel Backpack
Essential Travel Tips For Tourists
If it was helpful to you, then why not share it with your friends & family.
Or, if you really wanna be extra sweet, then support me by subscribing to my YouTube channel, and leaving your valuable comments under my videos.

For more travel-related information, you can subscribe to this travel blog website by simply entering your email address to get a notification upon publishing a new blog. The subscribe box you can see on the right side of this page. Also if you get an alert on your web browser while viewing my site, allow it and that will also give you an alert on your web browser whenever I publish a new blog 🙂
Traveling with the green ( ?? ) passport ?
Take only memories✈️leave only footprints?
Click here to check out my YouTube Channel and One Magic link of all my social media accounts
Stay safe & much love!❤️