Action cameras are small, lightweight, and compact. They are designed to be mounted on helmets, surfboards, or other objects to capture video from a first-person perspective. Action cameras can come in a variety of shapes and sizes. They can be worn by the wearer or mounted on a vehicle, animal or object. The camera is usually waterproof and shock resistant so that it can withstand the conditions it is meant to record in.
What is really an action camera?

Action cameras are a new breed of camera that can capture video from a first-person perspective. They are mainly used for recording sports, adventure, and other action-based activities.
Action cameras are typically waterproof and can withstand extreme temperatures and conditions. They are also typically much less expensive than traditional camcorders. Action cameras have a wide variety of uses including capturing footage for extreme sports such as skiing, skateboarding, surfing, or mountain biking; recording video during an event such as a wedding or party; or taking photos underwater with the use of a waterproof casing.
The action camera has been an important part of the evolution of video recording technology. The first action cameras were developed in the 1990s by companies like Sony, GoPro, and Contour who saw the need for a device that could capture footage from a point-of-view perspective.
Nowadays, more and more people are using action cameras to record their lives – from their daily commute to their first steps with their newborn baby 🙂
In this article I will review the top 3 action camera to help you choose the best one for your needs.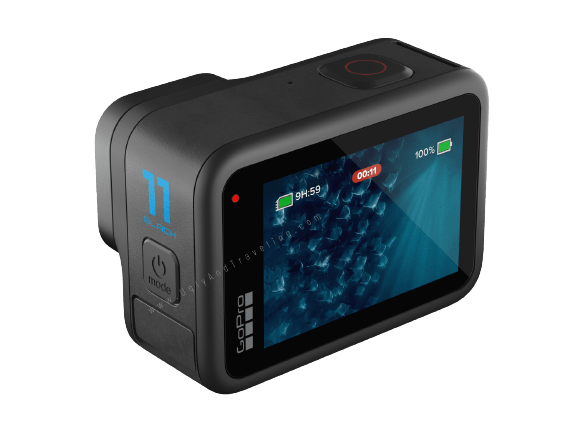 Highlights:
Automatic Highlight Videos
Larger new image Sensor
5.3K60 + 4K120 Resolution Video
HyperSmooth 5.0 Stabilization
Waterproof (33 ft)
Cold-Weather Enduro Battery
Imaging Sensor: 1/1.9-inch 8:7 aspect ratio
Max Resolutions and framerates: 5.3K60, 4K120, 1080p240
Color depth: 10-bit
Image Stabalisation: HyperSmooth 5.0 and 360º Horizon Lock
Touch Screen display: Yes
Photo reolsution: 27mp
Auto tagging of footage: Yes
Enduro battery: Included
Dimensions: 71.8×33.6×50.8mm
Weight: 154g
The GoPro Hero 11 is a new action camera that offers the best of both worlds with 5K, 4K video, and 12MP stills. It has a touchscreen display on the back and Wi-Fi connectivity.
The Hero 11 is not just a camera, it has an inbuilt processor and can do more than what most cameras are capable of today. It has voice control, so you can take pictures or videos using voice commands. This camera also comes with QuikStories, which automatically edits your footage for you in one tap and makes it easy to share your content with others on social media platforms like Instagram or YouTube.
The Hero 11 is waterproof up to 10m without any additional housing required, which makes it perfect for surfing, snorkeling, or any other water sports activity that you might like to try out!
The GoPro Hero 11 is a wearable camera that captures all of your adventures. It has voice control and live streaming, so you can share every moment with your friends and family. The Hero 11 is designed to be tough, so you can take it anywhere. It's waterproof up to 33 feet (10 meters) without housing and freezeproofs down to 14 degrees Fahrenheit (-10 degrees Celsius). The Hero 11 also comes with an improved battery life of up to 2 hours on a single charge.
The new GoPro Hero 11 is the company's latest action camera to feature a built-in touchscreen. The camera has a 2-inch touchscreen that can be used to control the camera and preview footage.
The Hero 11 is designed for adventure seekers and it comes with some of the most advanced video stabilization technology in the world. It can shoot 5K, and 4K video at 60 frames per second, 1080p HD video at 240 frames per second, and 720p HD video at 480 frames per second.
The Hero 11 also features voice control for hands-free operation, live streaming capabilities, photo burst rates of 30 photos per second, and more than twice as many slow-motion effects as previous models.
Dimensions (L×W×H): 70.5×44.2×32.8 mm
Weight: 145 g
Waterproof: 16 m [1] without Waterproof Case, 60 m with Waterproof Case
Number of Microphones: 3
Touchscreens: Front Screen: 1.4-inch 326 ppi 320×320
Rear Screen: 2.25-inch 326 ppi 360×640
Front/Rear Screen Brightness: 750±50 cd/m²

Camera
Sensor: 1/1.7-inch CMOS
Lens: FOV: 155°
Aperture: f/2.8
Focus Range: 0.3 m to ∞
ISO Range
Photo: 100-12800
Video: 100-12800
Electronic Shutter Speed
Photo: 1/8000-30 s
Video: 1/8000 s to the limit of frames per second
Max Photo Resolution
4000×3000
Zoom
Digital Zoom
Photo: 4x
Video: 2x (> 60fps), 3x (≤ 60fps, HorizonSteady On), 4x (≤ 60fps, HorizonSteady Off)
Slow Motion/Timelapse: Not available
Standard Recording
4K (4:3): 4096×3072@24/25/30/48/50/60fps
4K (16:9): 3840×2160@100/120fps
4K (16:9): 3840×2160@24/25/30/48/50/60fps
2.7K (4:3): 2688×2016@24/25/30/48/50/60fps
2.7K (16:9): 2688×1512@100/120fps
2.7K (16:9): 2688×1512@24/25/30/48/50/60fps
1080p (16:9): 1920×1080@100/120/200/240fps
1080p (16:9): 1920×1080@24/25/30/48/50/60fps
Slow Motion
4K: 4x (120fps)
2.7K: 4x (120fps)
1080p: 8x (240fps), 4x (120fps)
Hyperlapse
4K/2.7K/1080p: Auto/×2/×5/×10/×15/×30
Timelapse
4K/2.7K/1080p@30fps
Intervals: 0.5/1/2/3/4/5/6/7/8/10/13/15/20/25/30/40 s
Duration: 5/10/20/30 mins, 1/2/3/5 hours, ∞
Stabilization
EIS [2]:
RockSteady 3.0
HorizonBalancing
HorizonSteady
Max Video Bitrate
130 Mbps
Supported File System
exFAT
Photo Format
JPEG/RAW
Video Format
MP4 (H.264/HEVC)
Built-in Storage Capacity
The camera does not have built-in storage, but storage capacity can be expanded by inserting a microSD
This action camera is a high-quality device with a lot of features that can be used for different types of video recording. The DJI Osmo Action 3 has an intuitive and user-friendly interface, which makes it easy to use for beginners and professionals.
The DJI Osmo Action 3 has a lot of features that make it an excellent choice for those who are looking for an action camera. The DJI Osmo Action 3 is a handheld device that allows you to capture incredible footage. It is small and lightweight and can be used with one hand.

The DJI Osmo Action 3 has a built-in camera that has a 12MP sensor, a 2x optical zoom, and 1080p video resolution. The camera also records in 4K at 30fps. The camera also has an electronic image stabilization feature which helps to reduce the shakiness of your videos.
The DJI Osmo Action 3 is the perfect device for recording your adventures from up close or from afar with its 170-degree wide-angle lens.

DJI Osmo Action 3 is the latest action camera from DJI. It has been designed for extreme sports and outdoor enthusiasts. The DJI Osmo Action 3 is an action camera that allows you to capture your adventures in high-quality video. It features a 1/2.3-inch 12MP CMOS sensor with a 180° field of view and 1080p HD video at 60fps or 720p at 120fps. It also comes with a 2″ touchscreen LCD, which makes it easier to frame shots and change settings on the fly.

This camera can be mounted on poles, bikes, cars, or even drones, making it perfect for all kinds of outdoor activities like skiing, surfing, biking, or skateboarding.
3. DJI Osmo Action 4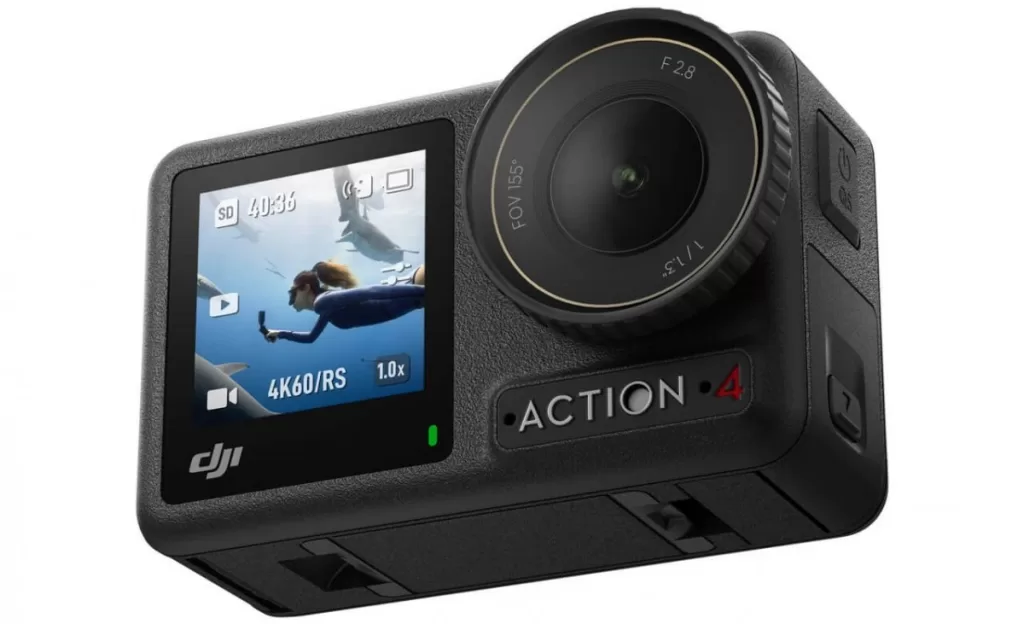 The DJI Osmo Action 4 is an exceptional action camera that delivers impressive performance and versatility. With its dual screens, including a front-facing display, framing shots and capturing selfies has never been easier. The 4K video recording at 60 frames per second ensures stunning, detailed footage, and the RockSteady stabilization technology guarantees smooth and steady shots even during fast-paced activities.
One of the standout features is its waterproof and rugged design, making it suitable for various outdoor adventures. The camera's ability to record HDR video enhances contrast and detail, particularly in challenging lighting conditions. The voice control function adds convenience, allowing hands-free operation for capturing moments on the go.
The camera's creative modes, such as timelapse and slow motion, provide a fun and artistic dimension to video content. Moreover, the customizable exposure settings enable users to fine-tune their shots according to their preferences.
The Osmo Action 4's dual-microphone setup ensures clear and high-quality audio, enhancing the overall viewing experience. Additionally, the wireless connectivity options, including Wi-Fi and Bluetooth, make content sharing and remote control effortless through the dedicated mobile app.
While the DJI Osmo Action 4 excels in many aspects, it might benefit from expanded battery life for longer recording sessions. Nonetheless, its combination of features, performance, and durability make it a standout choice for those seeking a reliable and versatile action camera for capturing their adventures with exceptional clarity and stability.
The DJI Osmo Action 4 comes with the following specifications:
Video Resolution: Supports 4K recording at up to 60 frames per second and 1080p recording at up to 240 frames per second for slow-motion shots.
Stabilization: Equipped with RockSteady electronic image stabilization technology for smooth and steady footage.
Front and Rear Screens: Features dual screens, including a 2.25-inch touchscreen on the back and a 1.4-inch front-facing screen.
HDR Video: Capable of recording High Dynamic Range (HDR) video for improved contrast and detail in various lighting conditions.
Waterproof: Built to withstand water up to a certain depth, making it suitable for water-based activities.
Voice Control: Offers voice control for hands-free operation and ease of use.
Timelapse and Slow Motion: Provides creative modes such as timelapse and slow motion for unique visual effects.
Custom Exposure Settings: Allows manual adjustments to settings like ISO, shutter speed, and more.
Photo Resolution: Features a 12-megapixel sensor for high-quality images.
Dual-Microphone Setup: Comes with dual microphones for improved audio capture.
Wireless Connectivity: Offers Wi-Fi and Bluetooth connectivity for easy content sharing and remote control via the mobile app.
Expandable Storage: Supports microSD cards for additional storage capacity.
Battery Life: Provides approximately 135 minutes of continuous recording time at 1080p/30fps.
Field of View: Offers a wide-angle field of view of 145 degrees.
Dimensions: Compact and lightweight design, measuring approximately 65 x 42 x 35 mm.
These specifications collectively make the DJI Osmo Action 4 a powerful and versatile action camera suitable for capturing high-quality videos and images in various settings and activities. Read more about it here.
4. Insta360 X3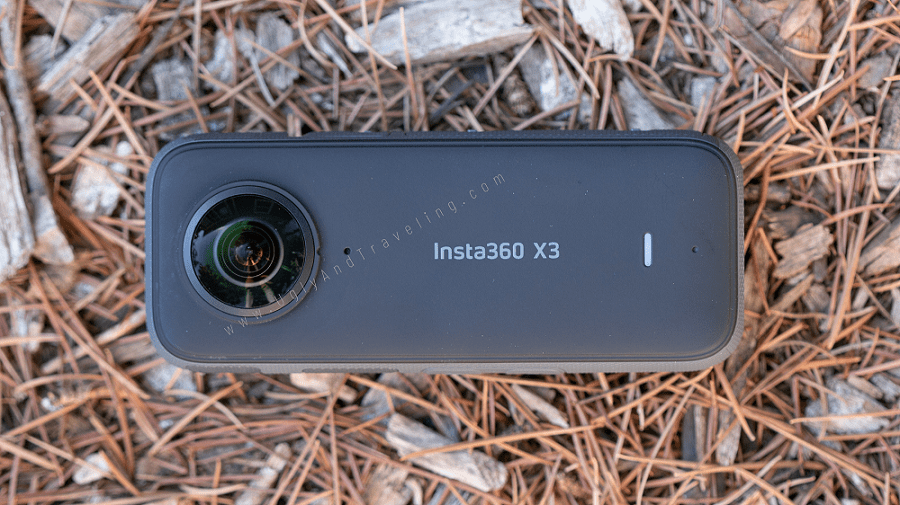 Specs
Photo Resolution
72MP (11968×5984)
18MP (5952×2976)
Video Resolution 360:
5.7K: 5760×2880@30/25/24fps
4K: 3840×1920@60/30fps
Single Lens Mode:
4K: 3840×2160@30/25/24fps
3.6K: 3584×2016@60/50/30/25/24fps
2.7K: 2720×1530@60/50/30/25/24fps
1080P: 1920×1088@60/50/30/25/24fps

Weight 180g
Dimensions (W x H x D)
114x46x33.1mm
Run Time 81min
The Insta360 X3 is a high-end action camera with 360° video capture. The camera has a 3D lens system that can capture video at 360° and take photos at 360° by combining the data from its two lenses. The Insta360 X3 also has a 4K resolution with 30fps, and it can record videos at 60fps.
The Insta360 X3 is the first action camera to provide users with a 360-degree surround view of their surroundings.
The camera has two lenses that are set 180 degrees apart, and the cameras shoot in both 4K and 1080p resolutions.
Insta360 X3 is a 360-degree action camera that provides users with a 360-degree surround view of their surroundings. The Insta360 X3 has two lenses that are set 180 degrees apart, and the cameras shoot in both 4K and 1080p resolutions.
The Insta360 X3 action camera is a 360-degree, 3K resolution, and a built-in live streaming device. It features a 12MP dual lens with f/2.0 aperture and an ISO of up to 3200. The camera also has a micro SD card slot for memory expansion and supports the use of two SIM cards for the best Wi-Fi connection.
The Insta360 X3 is a great option for those who are looking for an affordable 360-degree camera that does not sacrifice quality or functionality.
Closing thoughts
I'm using GoPro Hero 9 and am very happy with the camera. On my YouTube channel, you can see the videos I have made in 4K by using GoPro Hero 9. However now I have the new GoPro Hero 11, and from September 2022, I would be using Hero 11 for my vlogs and would see the results in my YouTube videos.
I think DJI Osmo Action 4 is very close to GoPro Hero 11, DJI has done a fabulous job this time by releasing the Action 3 camera. Hero 11 and DJI Action 4 both are amazing action cameras, even the Insia360 3X is also not so far behind them.
These three cameras are top trending now in the market and people are loving them. Each of them has its beauty and uniqueness.
So you are still confused about which camera to buy?
Don't worry let me breakdown into very simple words to make it easier for you.
GoPro Hero 11:- Great video quality, can record 5K, and 4K videos, even first-timers
can easily set profiles for different mods. The price is higher than the other action camera but it's worth it.
Pros
With a larger sensor, you're able to capture more with the GoPro and then make changes to the aspect ratio using the Quik app.

By using the same design as the Hero 9 and Hero 10, all of the accessories owners have invested in are still compatible.

Whether you're capturing 27-megapixel photos or recording 4K video, the clarity of the GoPro Hero 11 is superb.
Cons
·        
GoPros are pricey and can be a hard purchase to
justify when you have a smartphone in your pocket
·        
Even though the yearly subscription fee is just
$50, you'll need to pay that if you want to take advantage of the new Auto
Highlight feature.
DJI Osmo Action 3:- Great video quality, can not record in 5K, 4K is available,
very easy to attach with different mounts, price wise it's the best action camera.
Pros
Incredibly convenient mounting
Best-in-class diving depths
Cheaper than GoPro
No subscription payments required
Excellent battery life
Front touchscreen is very handy
Cons
·        Poor lowlight performance
360-degree horizon leveling caps at 2.7K
12-megapixel images and 4K maximum video resolution
Low-light performance struggles
Insta 360 x3:- Great video quality, can record 5.7K, and 4K videos, it is fun
to use because of its 360-degree feature.
Pros
Very good image quality

Large, beautiful touchscreen display

Creative and fun modes

Waterproof
Cons
Some features don't work
well in low-light situations
As I said these three cameras are amazing and have great quality. However,
it depends on the users and their needs. Make sure you do good research before
buying your first action camera. I'm very satisfied with my GoPro Hero 9 and 11
🙂
I hope you enjoyed this blog and I know it might be useful to you. Please share it with your friends and family.
Traveling with the green ( ?? ) passport ?
Take only memories✈️leave only footprints?
If you liked this blog and it was helpful to you, then why not share it with your friends & family.

Or, if you really wanna to be more sweet, then subscribe to my YouTube channel, watch my travel videos and leave your valuable comments under my videos.
Click here to check out my YouTube Channel and One Magic link of all my social media accounts
Stay safe & much love!❤️
Spread the love if you liked my blog