Australia is pretty in every form, very colorful barrier reefs, lush rainforests, or rocky outcrops. Experience it all in Australia, from Sydney's harbor beaches to the vast red deserts of Alice Springs. Cruise across Sydney Harbour in the sunshine or dine in chandelier-lit restaurants in Melbourne.
Although the majority of the population is concentrated on the East Coast, Australia has a diverse variety of landscapes and personalities that will warm your hearts to this continent.
If you are planning to visit Australia for a holiday, I would recommend it to you. As I have been to Sydney Australia and loved my trip.
I know a lot of people like to travel to Australia, however, they do not know how to start the visa application process, especially if they are the first timer and they get lost in the Google by ending up reading hundreds of articles and blogs but still they do not get the clear picture of processing visa application.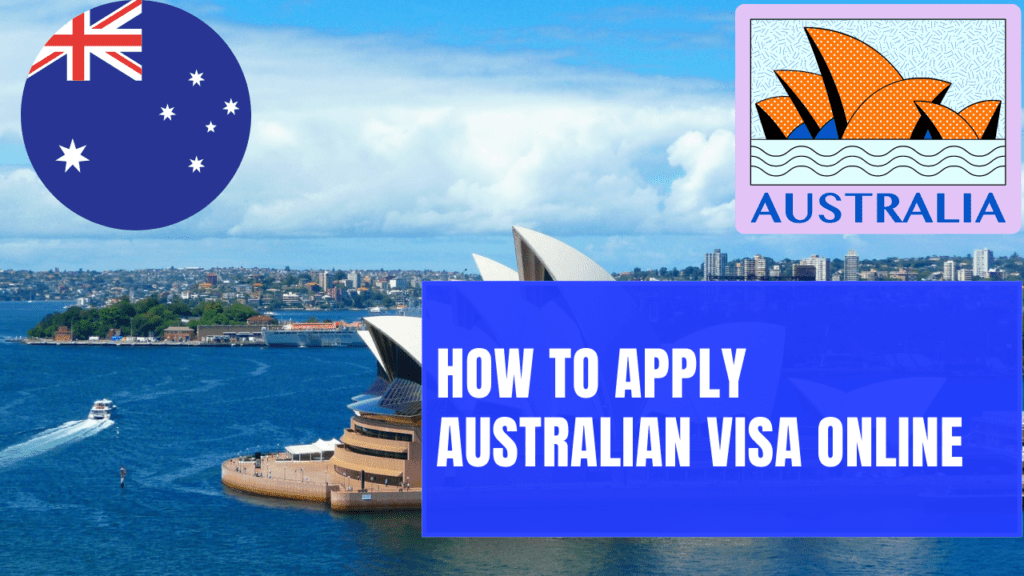 Here I am gonna write a complete guide, on how to obtain an Australian Tourist visa (Online Process). You do not need to go to any agent or else you will end up paying so much money and the agent still is not going to grant your visa as it's not in the agent's hands.

If you read this complete guide carefully and follow all the steps, you can do it yourself and obtain an Australian visa. I did this on my own when I applied for an Australian tourist visa online without anyone's help and I obtained my visa within a week.

Disclaimer:- I am not affiliated to any institution or embassy, all the information I am writing here is based on my personal experience.

Below is the guideline on how I got my multiple entry visa for 2 years at first attempt., please note this is my own experience, I applied for an Australian tourist visa online from Dubai UAE and holding a Pakistani passport. I hope you find this step by step guide application useful as you plan your trip to Australia. Read the rest of the post below.

So if you are outside the UAE and applying for an Australian tourist visa, I am sure the process is gonna be the same no matter where you are.
Apply For An Australian Tourist Visa Online Method
In this blog, I will demonstrate to you that how to apply for Australian Visitor visa (subclass 600) Tourist stream (apply outside Australia). This visa stream lets you visit Australia as a tourist, to go on a cruise or to see family and friends.
Step 1) Determine what kind of visa you need

To start your Australian visa application online, simply go to Visa Finder to check which visa category suits you. Since we are applying for an Australian tourist visa or Visit Visa, click on Visit and tourism as I am showing in the below screenshot;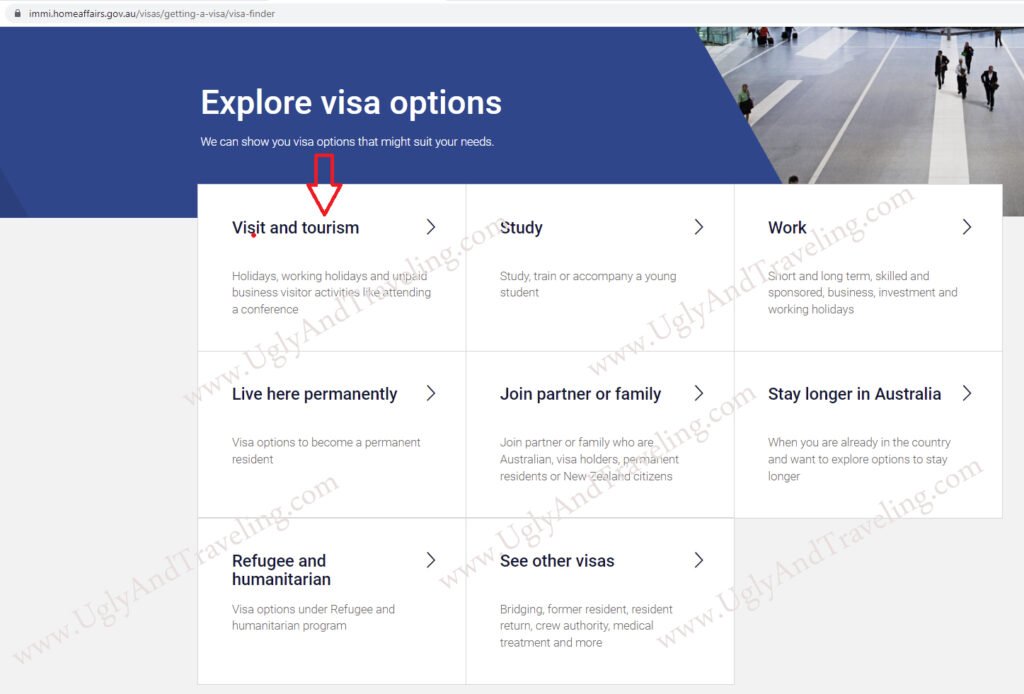 Once you click on the visit and tourism as showing in the above image, then it will open open a new web page same as showing below, simply select a holiday and press Continue.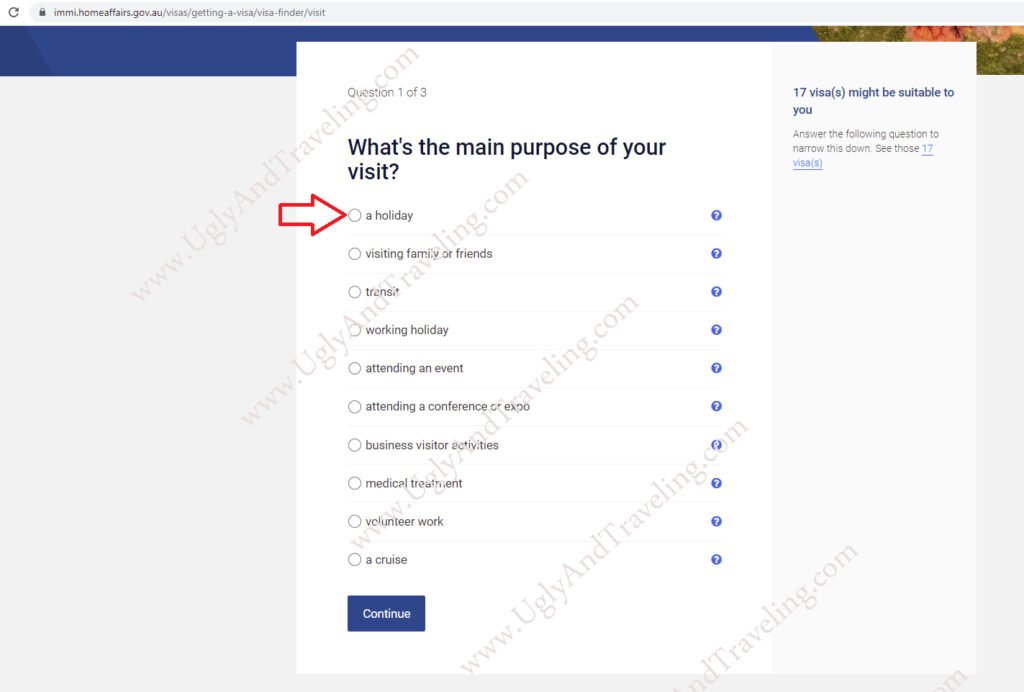 Then you will see a page asking "What's your country of passport?", same as I am showing in the below screenshot;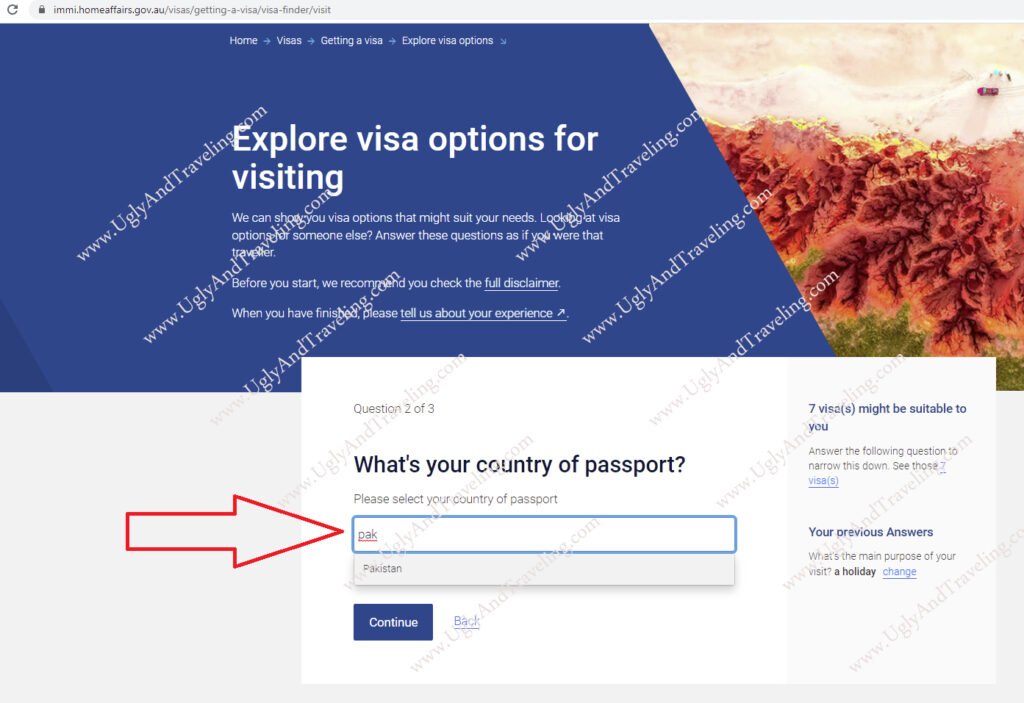 Select the country name of your passport, if you have Pakistani passport, just select Pakistan or if you have an Indian passport, select India etc.
After selecting the country name of your passport, click Continue and you will see the next page as showing below;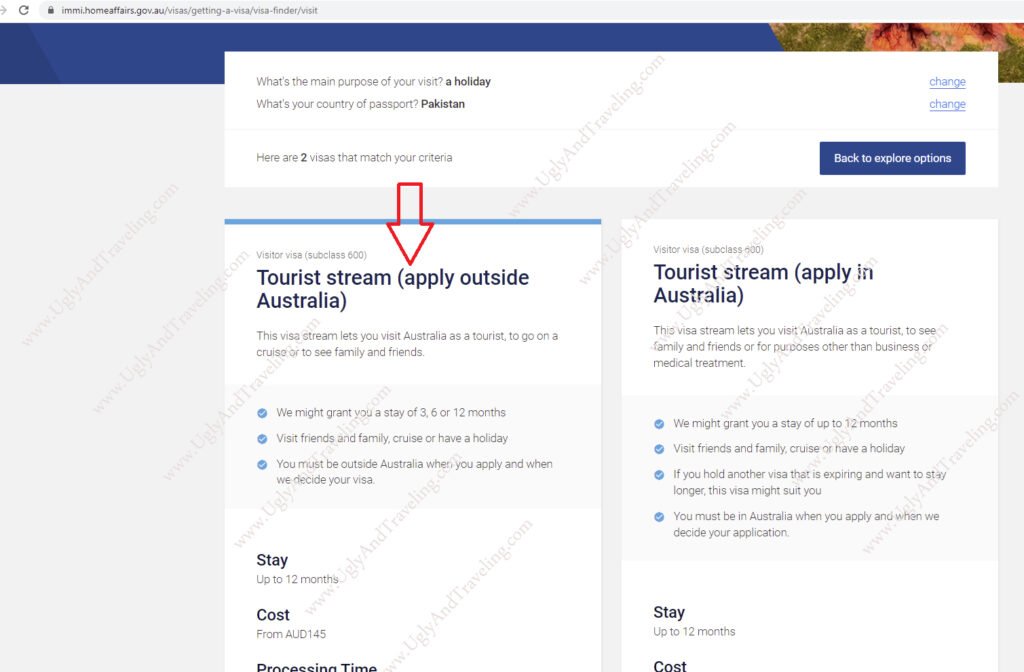 Click on Tourist stream (Apply outside Australia) as I have pointed in the above screenshot then it will open up a new page where you will see some information, just read that careful as it will look like this below screenshot;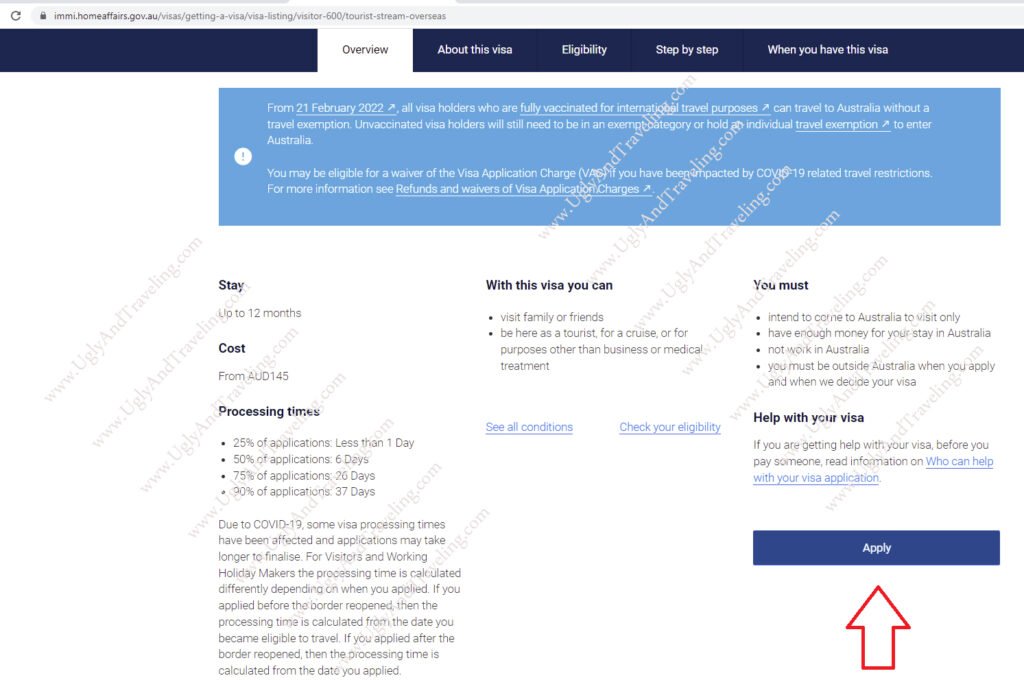 As you can see in the above screenshot, duration of stay, cost etc, read that all information and then click on Apply button as I pointed in the above screenshot and it will take you to the Sign up or register for an ImmiAccount.
Now you will think what is an ImmiAccount?

Well, ImmiAccount is an online service in acquiring a visa or citizenship in Australia. Just go to Immi Account and sign up for an account. All the visa processing will be done here so that's why It is important to have a working email address as they will send you all the confirmations and instructions there.
If you click on that Apply button as I showed in the above screenshot, it will open a new browser window and automatically take you to this URL.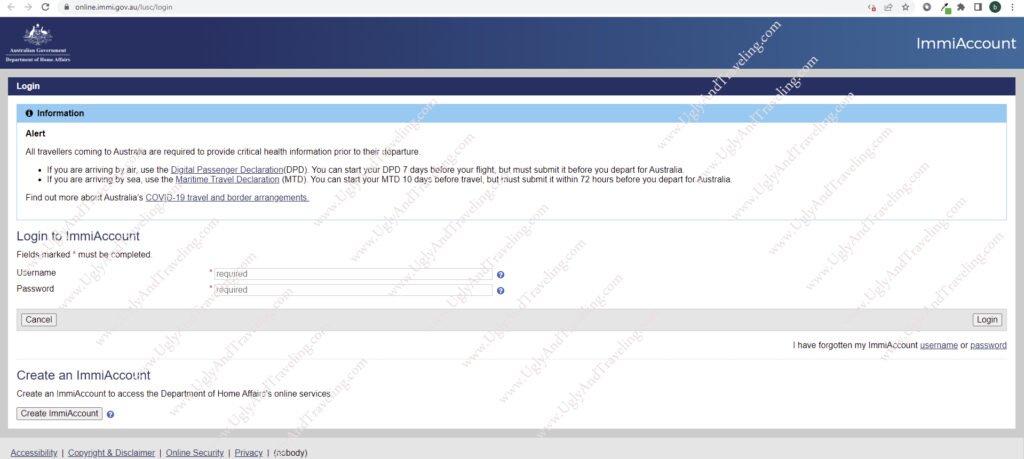 As you can see in above screenshot, Login to ImmiAccount and Create an ImmiAccount, so if you are first timer click o Create an ImmiAccount and it will open up a page as showing in the below screenshot;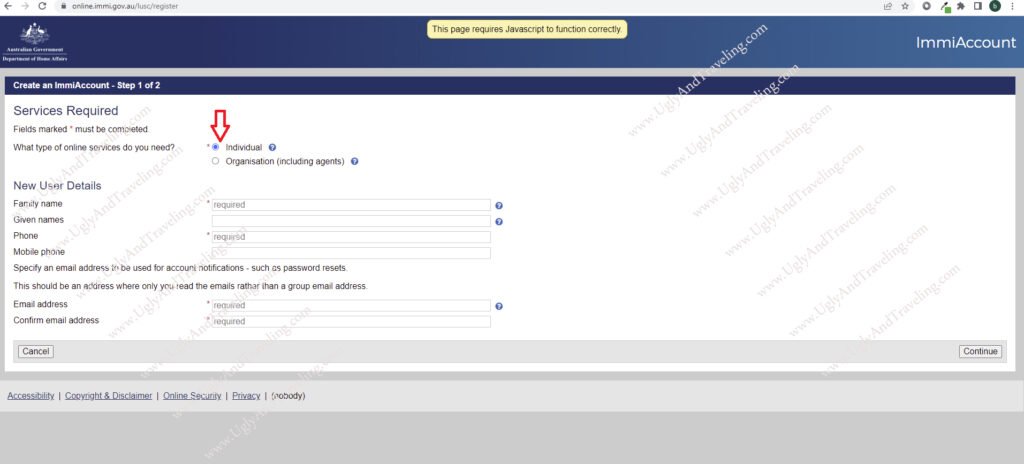 Select Individual as showing in the above screenshot and start filling the required fields to create your account.

After creating an account, you will receive a confirmation via email. Click on the link and follow the instructions. Fill out all the needed information on the form.

Note: If you can't finish the form, you can always save it for later. It is important that you DO NOT submit until the form is completely filled out.
Attach Supporting Documents / Requirement

Valid Passport
* Birth Certificate (If available better, I did not attach mine as I could not find it 🙂

* Write a nice cover letter, ​the cover letter for a Australian Visa application is an important document to provide before your trip that introduces yourself and your purpose of travel. It states every important thing you want to tell the consulate. It should mention and explain every document that you're submitting.
* NOC from the company, if you are working in a company, that would be great if you can get the NOC from your employer, where the company would mention that they do not have any objection regarding your travel to Australia for a holiday. That would also be a plus point for your visa application.
If you are the owner or self employed, then attach that proof instead of NOC 🙂
* Salary Certificate, upload a scan copy of that also with your online application, if available that would be great.

* Bank Statements (Make sure you have enough funds in your bank account, if you do not have then it may be a good idea to borrow money from someone but please take note that it has to be realistic. It must match with your personal income and the payment transaction should look real, you can not just suddenly transfer huge amount of money in your account and keep it there. The payment transactions should be in and out in a realistic ways. Once your statement is ready then only apply for the visa)
* Make hotel reservation on booking.com or any website you want, I made my booking reservation on Booking.com and when I got my visa then I canceled the hotel booking and found another cheaper hotel in Sydney 🙂
When you are making hotel reservation, find a room which has a 100% free cancellation without any charges before the check in, so I would suggest you when you are applying for Australian visa, make sure you apply in very advance like 3 or 4 months in advance so that the hotel booking will not charge you, the closer the date, the less chances of free hotel booking cancellation.

* Previous or current visas ( since I'm a resident in the UAE, they required me attached a scanned copy of my UAE Resident visa, if you are applying from your home country then attach any document such as national ID card).
* Letter of Invitation ( If you have family members or friends in Australia, ask for letter of invitation, but I had no one in Australia so I did not attach any invitation letter when I was applying). A bonus point I would tell you guys, if you do not have any relative in Australia and you are not able to get the invitation letter. Then use an event as an excuse, for example when I was applying I mentioned that I wanna visit Sydney to see the new year's calibrations and fireworks at the Sydney's harbor.
So, when you are applying for the visa, think of up coming even or cricket match or whatever you can think, Christmas or new year calibrations, whatever you can think of, write down that in the cover letter, it will make your visa application stronger 🙂
* Round trip ticket (it is discouraged to book a confirmed flight before you get the actual visa, but in my case, I made only a dummy return ticket (Dubai > Sydney > Dubai). So do not book the original ticket when applying for visa, only use reservation/ dummy booking.
* Travel History, that would be good plus point if you have any travel history. I have travelled to various countries, so what I did, I scanned all those stamp pages of my passport which I got during my visited to those countries and merged them all in one PDF file and attached that also in the upload section. This step is not really required, if you do not have any travel history, and want to take a risk to apply for Australian visa then you can still apply but if you have travel history, it just makes your application a bit more stronger 🙂
* Insurance, I have two insurances, so I attached a scan copy that as well, again this is also not required but better attach it if you have.
* Passport size photo (scanned). Check out the details of Australia Visa Photo Requirements by clicking here
* Pay the application fee (Online payment)
I paid a total amount of 135 AUD using my debit card, if you don't have one, borrow from a friend or a relative because they only accept card payments. All payments depend on the exchange rate of your country and take note that card charges may apply.
* Biometrics
After the payment, I received an email from them instructing me to go to the nearest Visa Center to provide my personal identifiers (biometrics).

I printed the email and went to VFS global located in Wafi Mall in Dubai, then proceeded to the counter to have my fingerprints and Photo taken.

Tip: Although there is no interview, it's better to look presentable to leave a good impression because at this stage, visa is still pending for approval.
I submitted my biometrics also online that time along with the visa application, but the above step I mentioned is currently the procedure as my friend recently applied and he had to go through the biometrics at the VFS office. I do not know why they did not ask me to visit VFS that time, everything I did online and did not leave even my room.
Anyway, if the website asks you to submit the biometrics online, then put some ink on your thumbs & scan them and attached them during uploading documents. If you end up at the page where they tell you to visit the VFS office to submit biometrics, then you have no choice but psychically visit the VFS to submit your finger prints (biometrics).
Once you are DONE with the biometrics/ finger prints, then your passport will be still with you. They will not keep your passport if you go there to submit your biometrics, the result of your visa will come out by email, so keep an eye on your email's inbox after completing the application process.
Then that's it! You'll just have to wait for the approval notice on your email so no further action is required. They will not send you any update so on this stage it's gonna be exasperating! It might take you a few days or even weeks before you get the result, but once you get an approval, its all worth the wait.
I got my Australian visa in email within one week, so do not get worry if yours take a bit longer as it depends on the number of applications they receive. So do not panic, stay positive and if you complete the process and showed everything which is needed, you are gonna get the good news via email 🙂
Take note that the notice that they are going to send you is the actual visa by email only, they won't stick it to your passport. Hope that above information helps!

Below is the screenshot of my Australian Visitor (subclass 600) visa, fortunately I got it for one year with multiple enteritis.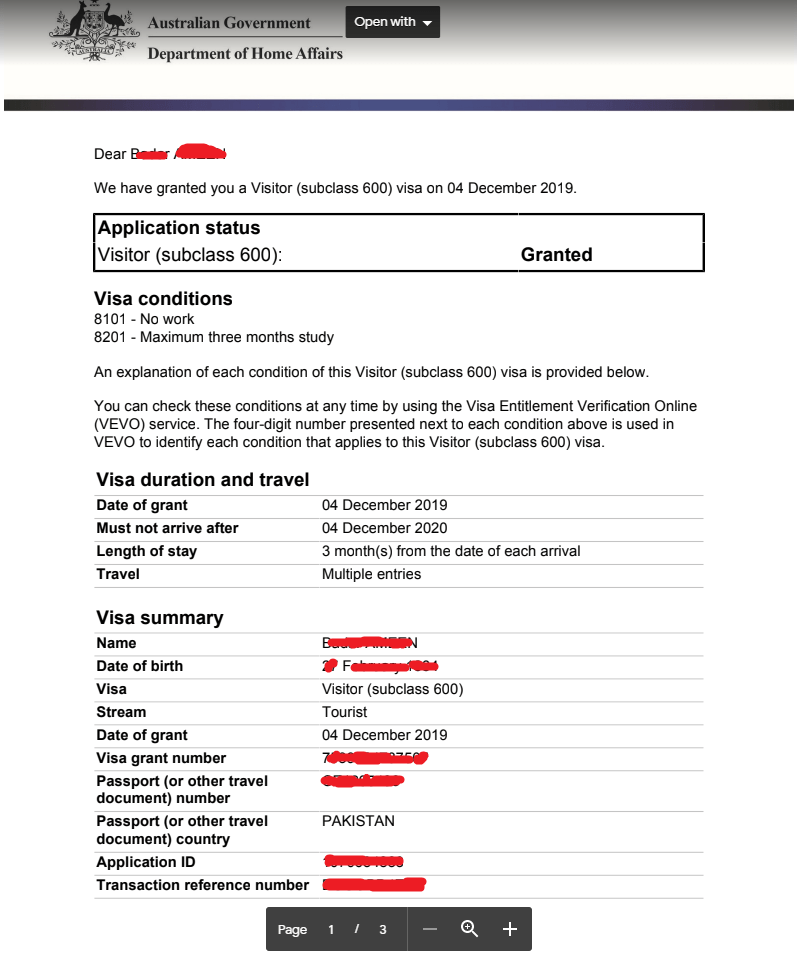 Important Note About Australian Visitor (subclass 600) Visa:-
Many people still do not know about this and very little information you can find on the internet about it. As this is clear now that you will not get a visa sticker on your passport and you will only receive the visa by email. But there is one more important thing I thought I would share with you guys.

Once you arrive in Australia, at the airport they will not stamp on your passport, even when you are leaving (departing) from Australia then also they will not put the exit stamp on your passport.

When I arrived in Sydney from Dubai, upon landing in Sydney, the immigration officer just checked my passport and allowed me to go out without putting the entry stamp on my passport. I was wondering why they did not put a stamp on my passport, as I wanted the stamp on my passport because I am filling my passport pages with the stamps wherever I go 🙂

So when I was departing from Sydney, they did the same thing but I asked the immigration officer I want the exit stamp on my passport, what if I land in Dubai and they make problems for me 🙂 So the immigration officer looked at me with a funny face and placed an EXIT stamp on my passport which you can see in the below screenshot 🙂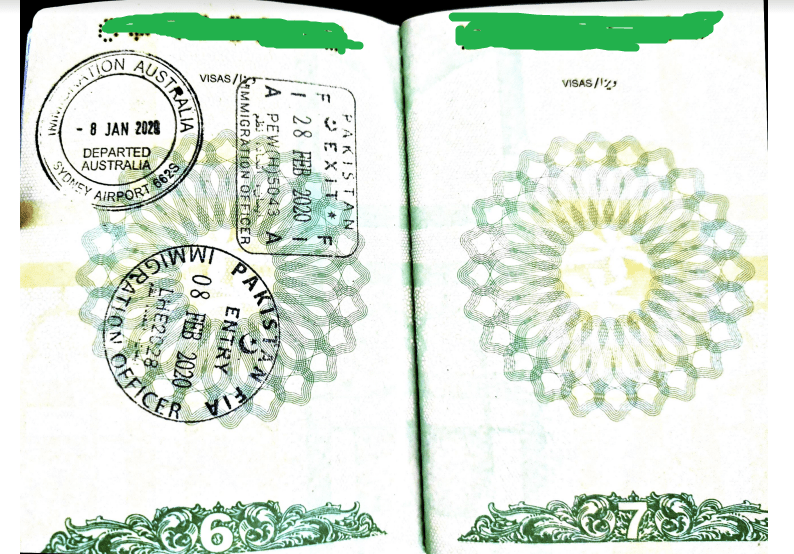 So the above details are the steps that I took in Dubai in order to secure an Australia tourist visa. I hope you find this guide useful as you plan your trip to Australia.
If you think I have missed anything, please do let me know in the comment before, or follow me on my social media accounts and DM me, I will try my best to get back to you soonest.
If you liked this blog and it was helpful to you, then why not share it with your friends & family.
Or, if you really wanna to be more sweet, then subscribe to my YouTube channel, watch my travel videos and leave your valuable comments under my videos.
Traveling with the green ( ?? ) passport ?
Take only memories✈️leave only footprints?

Click here to check out my YouTube Channel and One Magic link of all my social media accounts

Stay safe & much love!❤️
Spread the love if you liked my blog