Snow is a beautiful thing. It's also a dangerous thing. When you're traveling in a snowy environment, you need to take precautions to ensure your safety.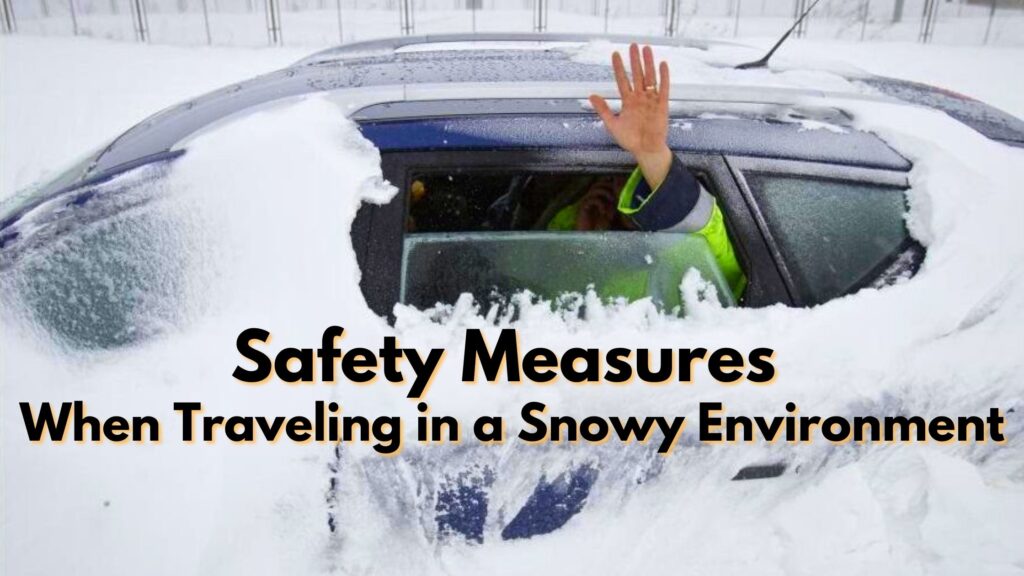 The Snowy Environment is a place with a lot of snow and where there is a risk of avalanches. If you are not careful, you might get buried under the snow.
When we are in a Snowy Environment, we need to be careful. It is important to have the right gear and clothes before going out into the snow.
In this article first, we will talk about preparation before you start traveling in a snowy environment, in the next section we will talk about driving safety tips on icy roads and in the last section, we will discuss what to do when stranded in your car by heavy snow to save lives.
Precautions you should take before going out in the snow
A Snowy Environment can be very dangerous. The snow can make it difficult to see what is on the ground or where you are going. The wind and cold can also cause hypothermia or frostbite which can lead to serious health problems if not taken care of quickly.
It is always important to be prepared when traveling in a snowy environment, whether it is on foot or by car. The following are some quick precautions that you should take before going out in the snow:
Get the right gear- Snow boots, gloves, wool socks, a hat, snow pants, and a winter coat are all essential.
Make sure to dress your children appropriately as well. They will need hats and gloves and may need to wear more layers than adults do.
Plan ahead- Check road conditions before you leave so you know what to expect on your journey and be aware that many roads may be closed during the winter months because of snowstorms or icy conditions.
Be aware of the weather forecast before leaving the house so that you have an idea of what to expect when you get there and can prepare accordingly if necessary.
Be prepared for emergencies- Pack all the essentials, including food, water, medications, and an emergency blanket in case you get stranded in your car or outdoors for any length of time.
Bring a fully charged cell phone with you in case of an emergency or if you need help finding your way back home again later on during your trip out into the snow-covered world outside your front door!
People often forget when they are traveling in the snow their phone's battery life! It's important to remember that batteries don't last as long when they're cold so make sure to charge up before your trip!
Being aware of road closures and detours before you start your journey.
Stay tuned to a local radio or television station for updates on the weather.
Best to avoid driving during severe winter snow storms. If you must drive, be sure to carry an emergency kit and extra clothes in your car.
If traveling by foot or bicycle, make sure that you dress appropriately and have proper footwear with good traction.
Bring a map of the area and an emergency kit with extra batteries and matches.
Keep your vehicle prepared- Make sure that your car has plenty of gas before you go on any long trips so it doesn't break down in the middle of anywhere.
Make sure your vehicle is in good working order before you head out on the road.
Avoiding driving during snowstorms or blizzards.
Tips For Driving in Snow And Ice Conditions
Driving in snowy conditions can be difficult and scary. The following precautions should be taken to ensure a safe and enjoyable winter travel experience:
Make sure you have enough fuel in your vehicle and that your tires are inflated.
Keep safe distance from other vehicles on the road. The snow makes it difficult to see, so don't follow too closely behind other cars.
Drive slowly and avoid sudden braking or acceleration, which can cause skids or loss of control of the vehicle.
If you do lose control of your car, steer into a skid so that the wheels turn in the direction of the skid until it subsides rather than fighting against it. This will help reduce speed and regain traction on slippery surfaces.
Driving in snowy and icy conditions can be a daunting task for many drivers. It is important to have the right tires, but there are other things that you should do to prepare before driving in snowy and icy conditions.
Make sure your vehicle is properly maintained.
Check your tire pressure, especially if you live in an area where temperatures drop below freezing regularly.
Keep a winter emergency kit in your car with tools including a shovel, jumper cables, blankets, gloves, and food/water for at least three days.
Slow down and turn on your headlights.
Be prepared for snow-covered roads, trees, and power lines.
Watch out for black ice, which is often invisible to the eye but can cause a vehicle to slide off the road or into another object with little warning.
Keep a safe distance from other drivers and maintain a wider than usual turning radius when approaching intersections or curves in the road.
Avoid sudden braking or acceleration as this could cause loss of control of your vehicle and lead to an accident.
What do you do if you are stuck in your car in the snow?
There are a few things you can do if you find yourself stuck in a snow-covered area. First, stay calm and assess the situation. Do not go outside unless it is necessary. If you must go outside, make sure that you have your phone with you and fully charged with emergency numbers pre-programmed.
This section provides information about what to do if you are stuck in the snow when traveling.
If you find yourself in this situation, the first thing to do is to put on your hazard lights. This will make it easier for other drivers to see you.
If you have a phone, use it to call the police or emergency services. If you do not have a phone, make yourself visible to the cars on the road by putting on your hazard lights, waving your arms, and making noise.
If you have a phone with a signal or a cell phone charger, call for help. If there is no signal or cell phone charger available, try getting out of the car and walking around to see if there is any service. If you don't have a phone with service, go back inside your car and stay warm by using your seat heaters and by drinking hot liquids like coffee or tea.
If you are stuck in snow or ice, try to push your car out of the snow or ice by rocking it back and forth while pushing down on the gas pedal.
Stay inside the car, lock all the doors and windows, turn on your emergency lights, and wait for help.
We should not open our car doors because this can let cold air into our cars which will make it harder for us to warm up again. We should also not use our exhaust pipe as an emergency heat source because this can cause carbon monoxide poisoning which can be deadly.
If the car starts to get cold, make sure to keep the heat on in the car at all times and dress warmly before going out of the car.
Do not keep the car heater always ON, turn it OFF when the car gets warm and turn it ON when the car gets cold.
The car heater can be deadly if windows are closed. This is because the air in the car will heat up and the windows will keep it trapped. This means that the temperature inside the car will increase at a much faster rate than outside, and this can lead to heat stroke or even death.
A car heater is a great way to stay warm during the winter but it can also be dangerous. This is because the warm air from the heater can cause a build-up of carbon monoxide in the car. Carbon monoxide is an invisible and odorless gas that can't be detected by humans. It's only detectable by its effects on people, which are headaches, dizziness, nausea, and confusion.
If you're driving with your windows closed, then you're exposing yourself to this deadly gas. So if you want to use your heater while driving in cold weather, make sure that you have your windows open as well!
If you are inside the car, wait until the snow stops before trying to dig yourself out. If you can't stay inside your car, find shelter in a nearby building or at least stay near the vehicle until help arrives.
If you get stuck in the snow and your car is not moving, then do not try to force it to move. You will only make it worse. Turn off the engine and wait for help. If you are outside of your car, then try to push it out of the snow, and if possible, use a tow truck or other help.
My closing thoughts – Love to give that mostly 🙂
The first precaution is to not go out in the snow without proper footwear. This includes making sure that your shoes are waterproof and have good traction on the soles. You should also wear warm clothing, such as gloves and hats, and carry an extra set of clothes with you if possible.
Another precaution is to make sure that you have enough food and water for your trip in case you get stranded somewhere for an extended period. Your mobile phone should be fully charged, also keep a multi-purpose charger always in the car to charge the mobile anytime you need.
If the heater is On in your car, NEVER close all the windows/ glasses of the car, leave a little bit down even half an inch, so that you will not run out of oxygen inside the car.
And finally, make sure that someone knows where you are going or what your itinerary is so they can come to find you if necessary
If you liked this blog and it was helpful to you, then why not share it with your friends & family.
Or, if you really wanna be extra sweet, then support me by subscribing to my YouTube channel, and leaving your valuable comments under my videos.
For more travel-related information, you can subscribe to this travel blog website by simply entering your email address to get a notification upon publishing a new blog. The subscribe box you can see on the right side of this page. Also if you get an alert on your web browser while viewing my site, allow it and that will also give you an alert on your web browser whenever I publish a new blog 🙂
Traveling with the green ( ?? ) passport ?
Take only memories✈️leave only footprints?
Click here to check out my YouTube Channel and One Magic link of all my social media accounts
Stay safe & much love!❤️
Spread the love if you liked my blog