Venice is a city in Italy and of the most romantic cities in the world. It is known for its beautiful architecture, canals, bridges, and narrow streets.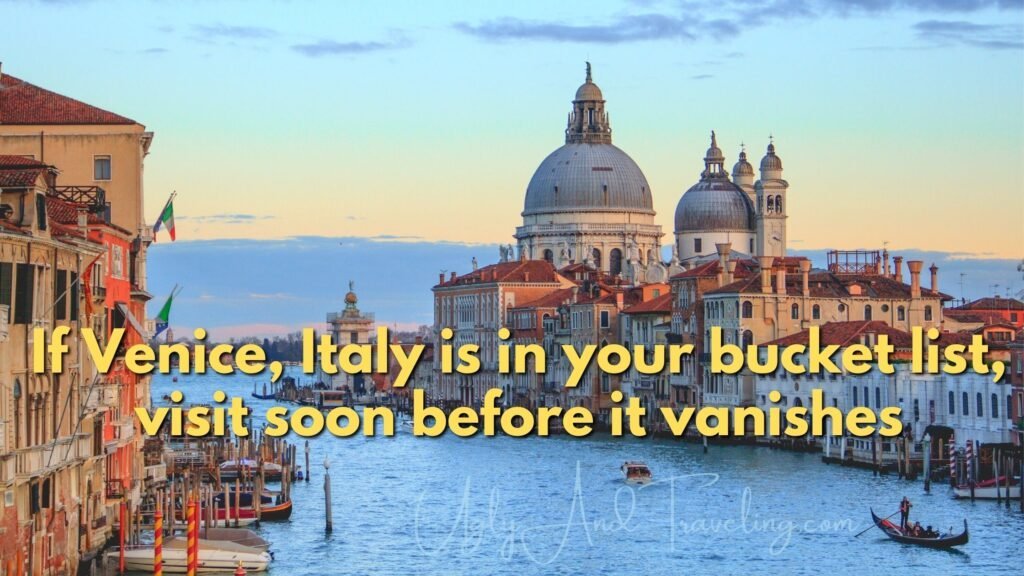 Venice is the capital of the region Veneto and a popular tourist destination. It's known for its canals, bridges, palaces, and historic buildings. It also has many art galleries, theaters, and cinemas.
Venice is a must-see if you're in Italy. It's a city that has an incredible history and culture. The architecture is beautiful, the food is delicious, and there are so many things to see and do.
If Venice is on your bucket list, hurry up before it gets too late and this historical city becomes a part of history.
Venice is sinking and the city is in danger of disappearing
Venice, Italy – a city of canals and bridges, home to an iconic canal system – is sinking. The city's foundations are partly built on watery marshes and its buildings have been gradually sinking into the soft ground for centuries. The problem has been getting worse as the sea level rises due to climate change, but it's also a consequence of the city's architecture.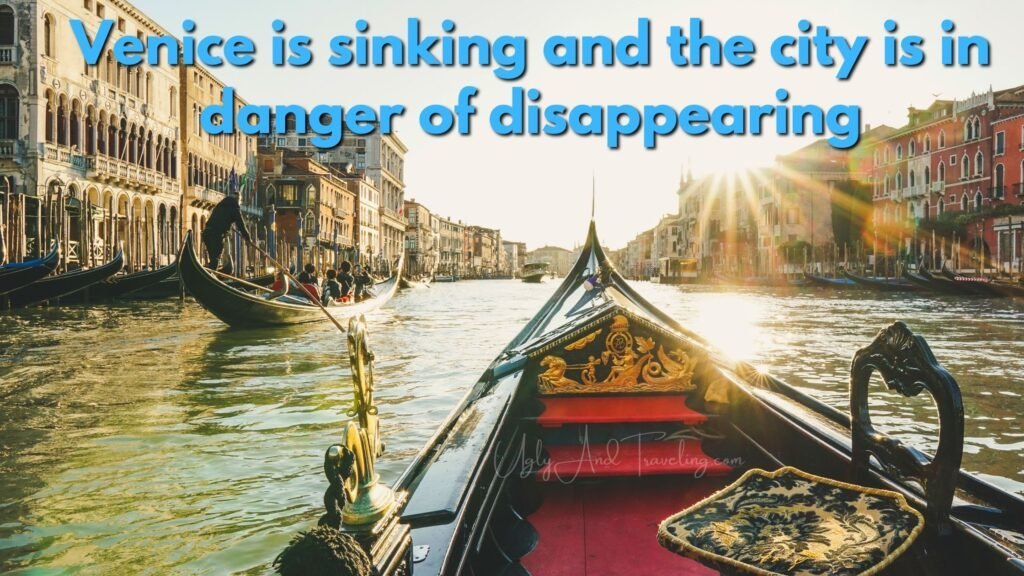 The city's buildings are now on average four feet below sea level, according to a study published by Nature Climate Change. It has been slowly disappearing for centuries now and it's only getting worse with time.
Venice was built on marshy land reclaimed from a lagoon that was once an inland sea. When this land was drained and built upon, it gradually sank below sea level. The problem has worsened with global warming as higher temperatures cause glaciers to melt and oceans to rise around the world.
Venice is a city of romance, decadence, and mystery. But it's also a city of water and that's where the problem lies. Venice has been sinking for centuries but in recent decades the rate of subsidence has increased dramatically. It's estimated that by 2045 Venice will be completely submerged in water unless drastic measures are taken to preserve it.
The city of Venice was originally built on a lagoon in the marshy region of the Venetian Plain, which formed a natural barrier against the tides. The city's first buildings were constructed on wooden piles driven into the marshy soil and then gradually replaced by brick buildings as they became more permanent. This incredible city is in danger because it has been sinking underwater for centuries and now it is at risk of disappearing.
The city council has been trying to address this issue by pumping in more than one million cubic meters of sand every year to try and support the ground beneath the lagoon. But experts say that this will only work for so long before there's nothing left to pump from below.
It has been predicted that Venice would sink under water by 2030 or before that.
This prediction was made by a group of scientists who calculated the level of erosion that Venice has been experiencing. This erosion is mainly caused by flooding, tourism and other human activities such as dredging and construction works.
The only solution would be to build a huge underwater wall around Venice, but experts say that this would cost billions of Euros and take years to complete – meaning that if you want to visit Venice soon, you'll have to do so before it vanishes into thin air!
The city of Venice was once a major power in the world, but now it's slowly sinking into the waves and will soon be gone forever.
If you're planning to visit Venice, Italy before it vanishes then you better hurry – because there's not much time left.
If you liked this blog and it was helpful to you, then why not share it with your friends & family.
Or, if you really wanna be extra sweet, then support me by subscribing to my YouTube channel, and leaving your valuable comments under my videos.
For more travel-related information, you can subscribe to this travel blog website by simply entering your email address to get a notification upon publishing a new blog. The subscribe box you can see on the right side of this page. Also if you get an alert on your web browser while viewing my site, allow it and that will also give you an alert on your web browser whenever I publish a new blog 🙂
Traveling with the green ( ?? ) passport ?
Take only memories✈️leave only footprints?
Click here to check out my YouTube Channel and One Magic link of all my social media accounts
Stay safe & much love!❤️
Spread the love if you liked my blog