Travel bloggers are not only writing about their travel experiences, but they are also making money by doing so. The most popular way to make money is through affiliate marketing. Travel bloggers earn a commission when they promote or mention products on their blogs.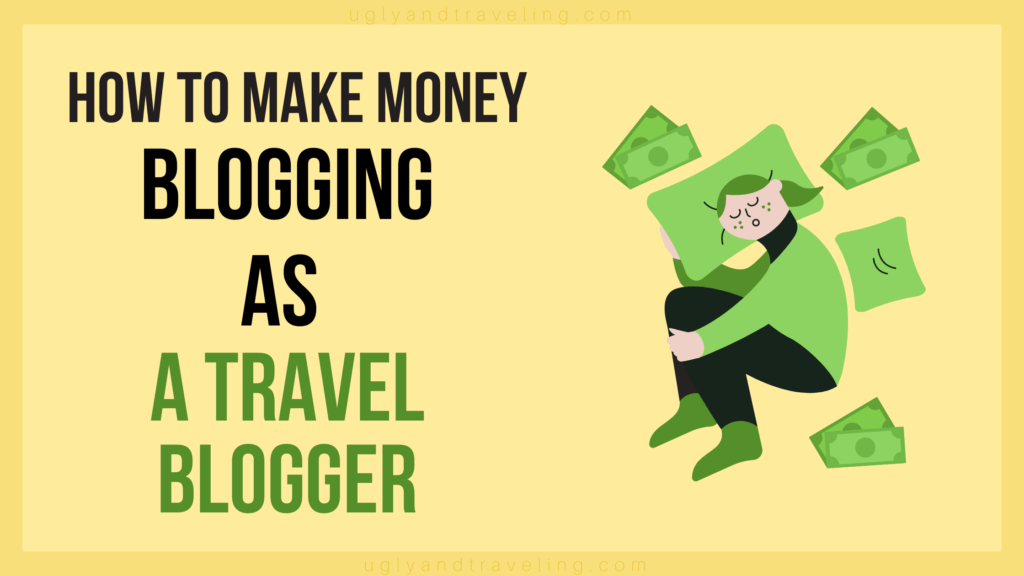 In the past, people who wanted to travel had to save up their money and hope that they could afford to go. Today, anyone can take a vacation by using their travel blog as a way of making money.
Travel blogging is a good way for people to share their travel experiences and at the same time make some money in the process.
If you are looking for some tips on how you can make money blogging as a travel blogger, then it's time to take note. Here are eight steps that will help you get started and get paid!
This article is not only for travel bloggers, it can be helpful to anyone who writes blogs no matter which niche they have apart from travel.
Before I start, let me describe in short words what is a travel blogger and the difference between a blog and a vlog.
What is a travel blogger?
A travel blogger is an individual who creates and shares travel-related content on the Internet. The term "travel blogger" has been in use since at least 2006, when it was used to describe bloggers who share travel stories on their blogs.
Travel blogging became popular in the 2000s with the rise of social media and personal blogs. Many people find that they can make money by blogging about their travels. There are several ways to make money as a travel blogger, but most bloggers earn money through advertising, sponsored posts, affiliate marketing, and selling merchandise or services.
Difference between a blog and a vlog
A blog is a web-based journal where one or more authors write about their thoughts, experiences, and things that interest them. Blogs are usually written in chronological order with the most recent post appearing at the top of the page.
Vlogs are videos, typically hosted on video-sharing websites such as YouTube, that are created by an individual who broadcasts his or her life to viewers. Many vloggers share their day-to-day lives on camera for their viewers to watch.
How to Make Money Off Your Blogs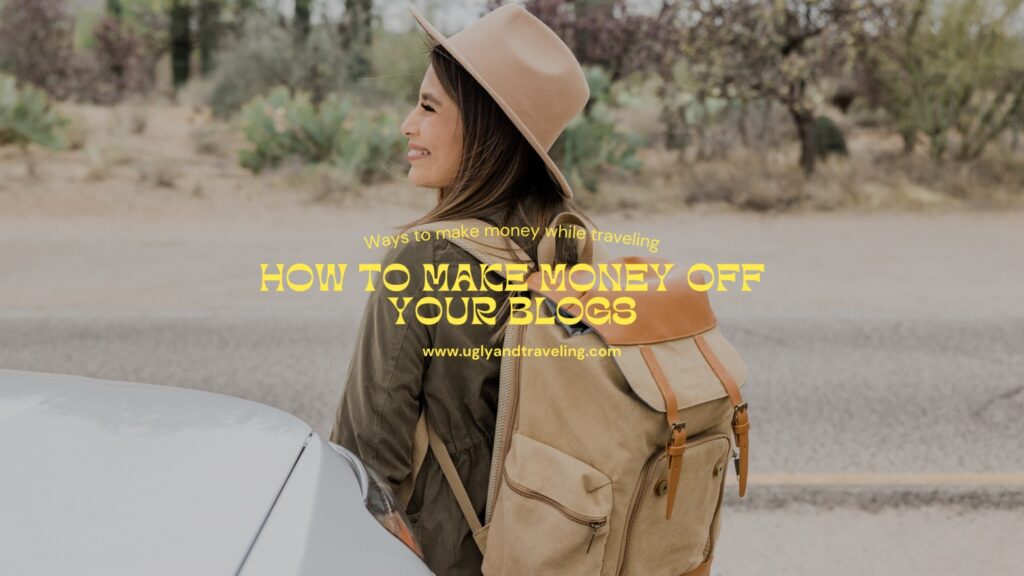 Blogging is an excellent way to make money and travel the world at the same time. Some bloggers can make a living off of their blogs alone.
Many people think of blogs as just a place where they can share their thoughts with others, but they can also be used to make money by using different methods of monetization. Blogs can use advertising to generate revenue or sell digital products like e-books and courses.
In this article, I will explore how travel bloggers make money. There are many different ways that you can make money as a travel blogger. Some of them include:
1) Writing for other publications:
You can also write for other publications and make money by submitting articles or other types of content. These days many companies are looking to hire freelance writers because it is cheaper than hiring someone full-time.
This is a great way to make money as a writer to write for other publications and earn money. You can find publications that are looking for writers on websites like Upwork, Problogger, and Contently.
2) Selling physical or digital products: You can sell your products on blogs and make money by posting sponsored content. You can also use affiliate marketing to promote other people's products and earn commissions.
You should be aware that there is no such thing as a free lunch. You need to put in the time and effort if you want to see results.
You can turn your blog into an income-generating machine by adding products to it and then promoting them through social media channels like Facebook and Twitter, or other channels like your email newsletter or YouTube channel.
3) Advertising on your blog: One way is by advertising on your blog. The advertisers will pay you for the ads they want to display on your blog. You can also set up a Google Adsense account with Google and use their advertisements on your blog. These are some of the best ways to make money from blogs and it is easy to do this way too.
Advertising is one of the best ways to make money from blogs because it is a simple process that doesn't take a lot of time or effort, but you will need to find advertisers who want to advertise on your blog for it to work well for you.
There are many ways you can advertise on your blog, including ads for products or services that you sell, advertising for other blogs or websites, and advertising for affiliate programs.
4) Sponsored Posts: Sponsored Posts are a great way to make money from blogs. They are a form of advertising that is paid for by the advertiser, who will pay the blog owner in return for having their product or service featured on the blog and promoted to its readers.
It is the most effective way to monetize your blog and get paid for what you write.
Sponsored posts are also a great way to build your blog's audience and authority in your niche. If you have the right audience, it won't be difficult to get sponsored post offers from brands or companies who want to reach your readership.
The key to making money with sponsored posts is being able to negotiate an attractive deal for both parties involved- the blogger and the company/brand who wants their content promoted on the blog.
5) Merchandise Sales: Blogs are a great way to make money and they can be used as a passive income stream. There are many ways that bloggers make money, but the most popular way is through Merchandise Sales. You can use Merchandise Sales to sell physical products that you create or promote.
First, you need to find a niche that you can talk about and share your thoughts on. You will then want to create some products that relate to that niche or have something related to them. You should then take those products and sell them through your blog or website. This will allow people who visit your site or read your blog posts the opportunity to purchase these products through your site as well as provide you with an additional revenue stream for blogging.
You can also try some small ventures like selling clothing on your site or affiliate links with other companies.
Finally, you need to promote the blog through social media sites like Facebook or Twitter and use SEO keywords in your posts so that they rank higher in search engines like Google or Bing. The more web traffic that comes to your blog, the higher the chances they would buy the products.
6) Affiliate Marketing: The idea of making money has always been a topic of interest to most people. This is because it is an opportunity to earn an income without having to work for it. There are many ways one can make money, and one of the easiest ways is by using affiliate marketing.

Affiliate marketing is the act of promoting other people's products or services in return for a commission on every sale you generate. Bloggers can use affiliate links to earn commissions on their blog posts and can also offer their products as an affiliate.
It's also known as a "passive income" because you don't need to do anything in order for the sales to be generated, but your commission will come from them when they are made.
7) Affiliate links: Affiliate links are links that have a special code embedded in them. These codes allow the blog owner to get a commission for any sale that is made through the link.
The affiliate link is a special type of link that is used to generate commission for a third party. It is also known as an affiliate marketing link or referral link. Affiliate links are often found on blog posts, social media posts, and in e-mail newsletters.
In simple words, affiliate links are the links that you share on your blog and the link directs traffic to the merchant's website.
An affiliate marketer will offer a commission to a blogger for referring customers to their products or services. The blogger can place an affiliate link on their website or in their email newsletter and when someone clicks through it and makes a purchase, the blogger earns money from that sale.
8) Sponsored Posts: Sponsored posts are when companies will pay you to write content about them or their products in exchange for a fee or commission on any sales made through your post. Travel bloggers often use sponsored posts as a way to make money because they often have the connections needed to find these types of deals, but it does take some time and effort to find them.
My closing thoughts
There are many ways to make money blogging, but one of the best ways is to write about your passion. If you have a love for travel and want to share your experiences with others, then this is a great place to start.
Because blogging is an excellent way to make money and travel the world at the same time.
There is a lot of competition in the blogosphere. To be successful in blogging, you need to create content that is better than what your competitors are creating. You also need to find the right audience for your blog posts – people who are interested in the topic or niche that you're blogging about.
Also you can check out this "How to Make Money as a Travel Vlogger".
Traveling with the green ( ?? ) passport ?
Take only memories✈️leave only footprints?
If you liked this blog and it was helpful to you, then why not share it with your friends & family.
Or, if you really wanna be extra sweet, then support me by subscribing to my YouTube channel, and leaving your valuable comments under my videos.
For more travel-related information, you can subscribe to this travel blog website by simply entering your email address to get a notification upon publishing a new blog. The subscribe box you can see on the right side of this page. Also if you get an alert on your web browser while viewing my site, allow it and that will also give you an alert on your web browser whenever I publish a new blog 🙂
Click here to check out my YouTube Channel and One Magic link of all my social media accounts
Stay safe & much love!❤️
Spread the love if you liked my blog