Are you torn between visiting New York City or London? You're not alone! These two iconic metropolises often top the list of must-visit destinations for travelers worldwide. But how do you decide which city is right for you? In this article, we'll break down the key differences between New York and London to help you make your choice.
Compare New York and London, two of the world's most iconic cities. Discover the history, landmarks, culture, transportation, size, cost of living, accommodation, nightlife, and weather of these two destinations. Choose the city that suits your interests and priorities and get ready for an unforgettable travel experience.
New York City and London are two of the most iconic and beloved cities in the world, each offering a unique and unforgettable travel experience. Both cities have rich histories and cultural scenes, as well as numerous landmarks and attractions that draw millions of visitors each year.
However, there are also notable differences between the two cities that may make one more appealing than the other depending on your interests and priorities.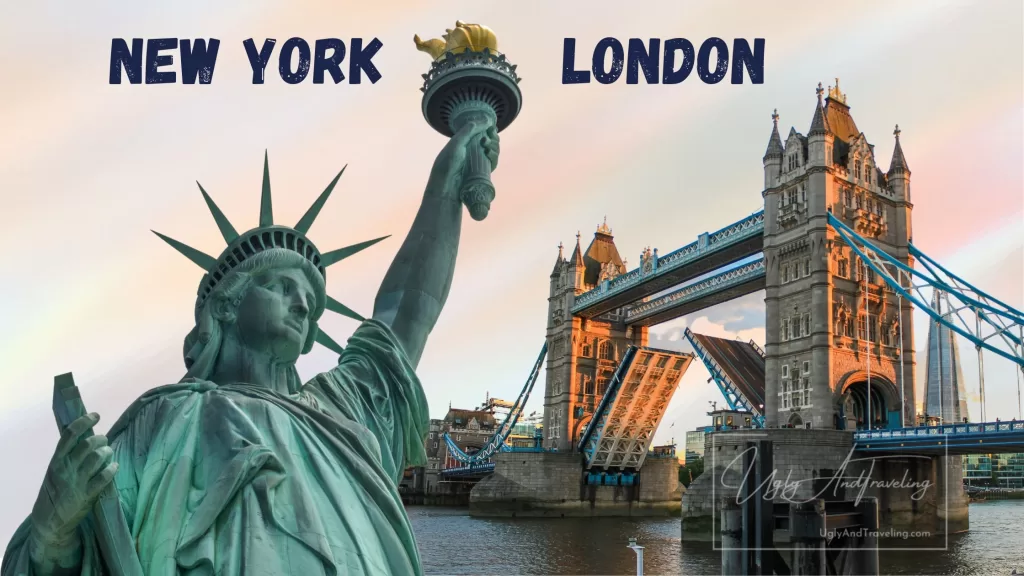 History and Landmarks
While both cities have rich histories, London's longer timeline means you'll find a wider range of historical landmarks and architecture. The Tower of London, Buckingham Palace, Westminster Abbey, and St. Paul's Cathedral are just a few of the famous landmarks that reflect London's long and fascinating history.
On the other hand, New York's history may be shorter, but it has its own share of iconic landmarks, such as the Statue of Liberty, Empire State Building, and Times Square.
Culture and Vibe
Both New York City and London are cultural capitals, with a dynamic and ever-evolving scene that reflects the cities' diverse histories and populations. New York is known for its vibrant neighborhoods, from the trendy cafes and boutiques of Williamsburg to the historic brownstones of Harlem.
London is similarly known for its eclectic and diverse neighborhoods, each with its own distinct character and vibe. London's West End is home to some of the world's most prestigious theaters, while New York's Broadway is the world's premier theater district.
Transportation
Both cities have efficient and extensive public transportation systems that make it relatively easy to get around, although the layout of each city is quite different. New York has a grid-like street layout, with numbered streets running east-west and named avenues running north-south, while London's streets are more organic and winding. The Tube system is one of the most extensive and efficient subway networks in the world and connects most parts of London, while New York's subway system also covers most areas of the city.
Cost of Living
Both New York and London are known for being expensive cities, with high costs of living and pricey accommodation. However, there are also affordable options available in both cities, particularly in the outer boroughs of New York and the suburbs of London.
Nightlife
New York City and London both have vibrant and diverse nightlife scenes, with numerous bars, clubs, and music venues catering to every taste and style. While both cities offer a range of nightlife options, the vibe and atmosphere are quite different.
New York is known for its bustling and frenetic nightlife, with venues like Times Square and trendy bars in neighborhoods like Williamsburg, while London's nightlife scene is more laid-back and traditional, with historic pubs and cozy bars.
Weather
New York City has a humid subtropical climate with hot summers and cold winters, while London has a temperate maritime climate with mild temperatures and moderate rainfall throughout the year.
Both cities experience extreme temperatures, but visitors to New York should be prepared for heat waves in the summer and snowstorms in the winter, while visitors to London should pack an umbrella for the frequent rain showers.
My closing thoughts
In conclusion, both New York City and London offer a wealth of experiences and attractions that make them must-visit destinations for travelers. Whether you're interested in history, culture, nightlife, or simply want to soak up the unique vibe of each city, there's something for everyone.
Ultimately, the decision between the two comes down to personal preferences and priorities, but no matter which city you choose, you're sure to have a memorable and unforgettable experience.
If you liked this blog and it was helpful to you, then why not share it with your friends & family.
Or, if you really wanna be extra sweet, then support me by subscribing to my YouTube channel, and leaving your valuable comments under my videos.

For more travel-related information, you can subscribe to this travel blog website by simply entering your email address to get a notification upon publishing a new blog. The subscribe box you can see on the right side of this page. Also if you get an alert on your web browser while viewing my site, allow it and that will also give you an alert on your web browser whenever I publish a new blog 🙂
Traveling with the green ( ?? ) passport ?
Take only memories✈️leave only footprints?
Click here to check out my YouTube Channel and One Magic link of all my social media accounts
Stay safe & much love!❤️
Spread the love if you liked my blog