Khorfakkan (Khor Fakkan) is a small town in the emirate of Sharjah, United Arab Emirates. It has a population of about 40,000 people. It is one of the oldest towns in Sharjah, and it has been inhabited for more than 2,000 years.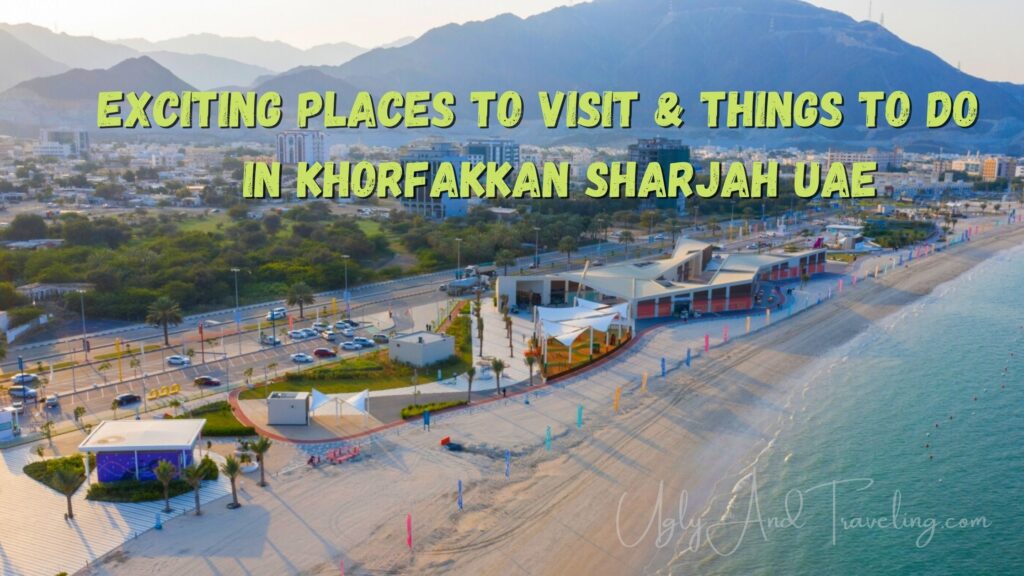 History of Khorfakkan
Khor Fakkan was first mentioned by name in an ancient document called 'The Book of Sailing Directions. The book was written by a Greek navigator called Ptolemy who lived around 100 AD. It is located on the coast of the Persian Gulf.
The city was founded in 1868 by an Omani national named Khorfakkal bin Ahmed Al Busaidi. He was from the Al Busaidi tribe which is one of the largest tribes in Oman and the UAE.
The town is known for its pearling industry and as a tourist destination for its beaches, diving sites, and resorts.
Things to do & Places to Visit in Khor Fakkan
The town has been developed in recent years and offers many facilities to its residents and visitors. It has many tourist attractions to offer, such as a beautiful beach, an old fort, and an ancient mosque. There are also many places where you can enjoy water sports like snorkeling and diving.
There are many tourist attractions for those who are looking for more than just sunbathing on the beach. Some of these include:
Shees Park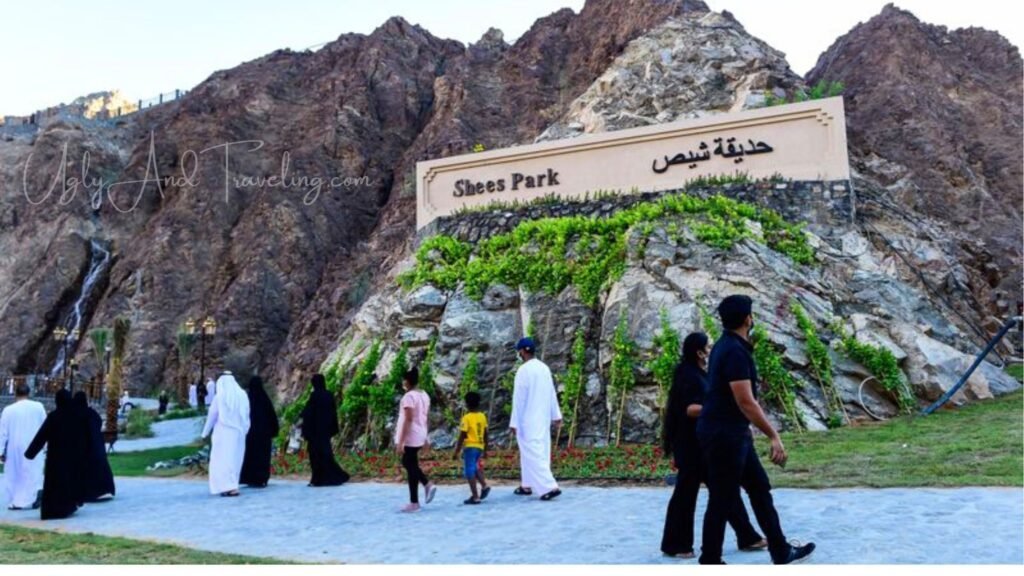 Shees Park has been designed to be a modern urban oasis that offers visitors a chance to escape from the city. The park was built in 8 months and it covers an area of 11,362 m2, has a 25-meter-high unnatural waterfall, and includes 506 meters of walkways throughout three mountain terraces linked by stone stairs leading to the main viewing platform at a height of 30 meters from the main park level
It includes a children's play area, 32 shaded seating areas for visitors, and an outdoor theater that can accommodate 70 visitors. a designated barbecue area is also available for families and friends.
This park is equipped with essential amenities and features and was opened to the public in October 2020 it's an ideal destination for road trips during the cooler months in the UAE.
The park is in Wadi Shees, Khor Fakkan in Sharjah's suburbs. Although it's in Sharjah, it takes less time to get to the Shees Park from Dubai. Though it takes around 45-60 minutes to get to the park from Sharjah depending on your location, by car it takes barely 30-40 minutes to reach there from Dubai.
Khorfakkan Waterfalls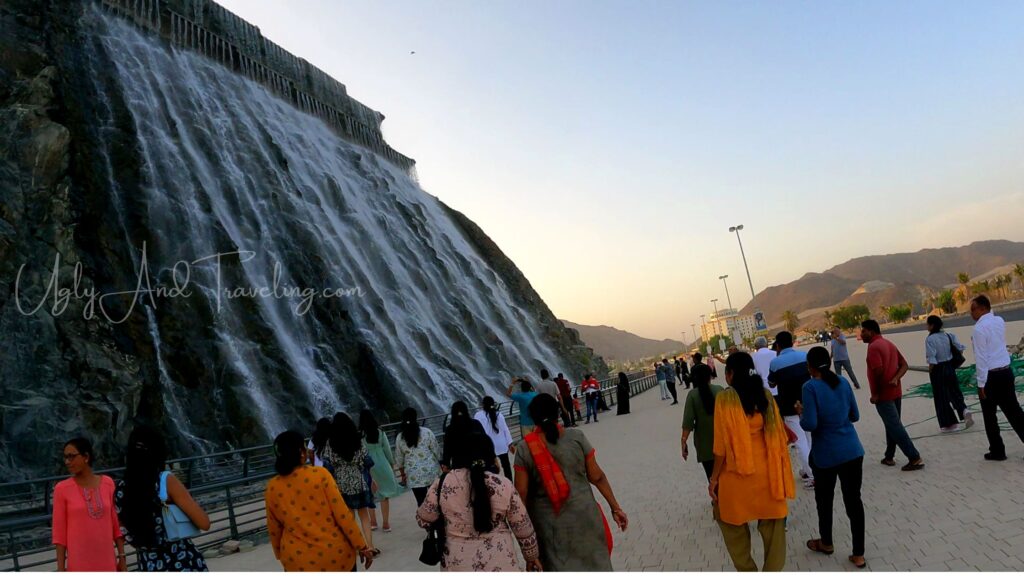 This amazing man-made waterfall is located on a natural cliff that faces the Khor Fakkan Corniche, seaside. Khorfakkan waterfalls are one of the tourist attractions in the area.
It is a perfect illustration of how nature is often merged with modern technology in the UAE.
This waterfall provides you stunning view and an amazing soothing experience, as you hear the sound of the waterfalls. It is a popular spot in Khor Fakkan where you can make incredible photos and videos for your social media accounts to share with family and friends. If you are visiting Khor Fakkan I highly recommend it to all.
Khorfakkan Amphitheatre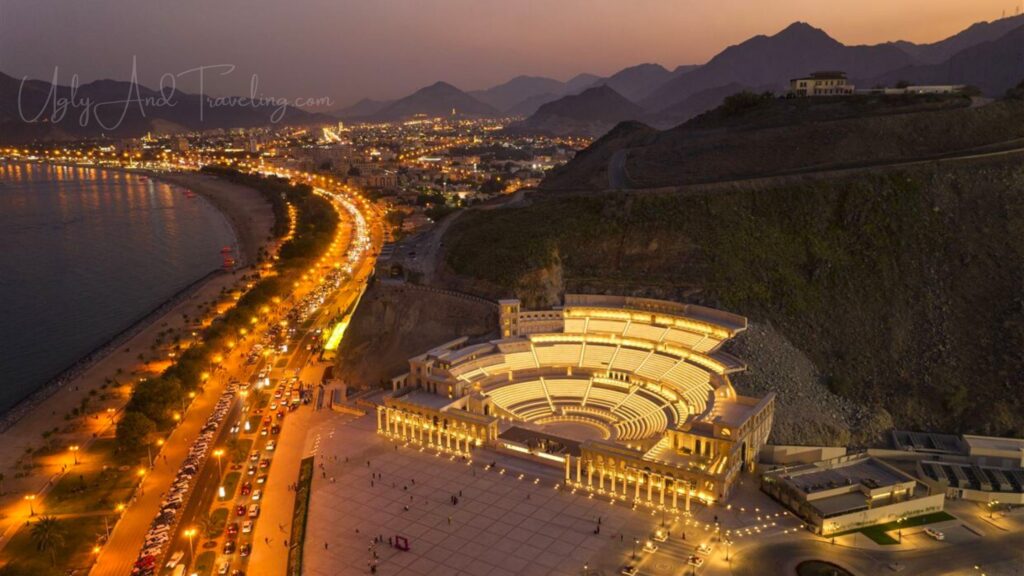 The Amphitheatre is a landmark in Khor Fakkan and it is a unique venue for concerts, live performances, and public events.
Dive into the local culture at the impressive Khorfakkan Amphitheatre which was inspired by Roman architecture, it has quickly become a famous local landmark. The newly built amphitheater covers over 1700m2 and can hold over 3500 audiences.
A magnificent 45m-high waterfall flows down next to the amphitheater. Although the waterfall is man-made, it was carved out of natural rock and is often illuminated at night.
From there, visitors can watch the water flow down the rock. Both the amphitheater and waterfall face Khorfakkan's shining sea, so visitors can enjoy roaming along the beach before enjoying a spectacular show.
Khorfakkan Portuguese Fort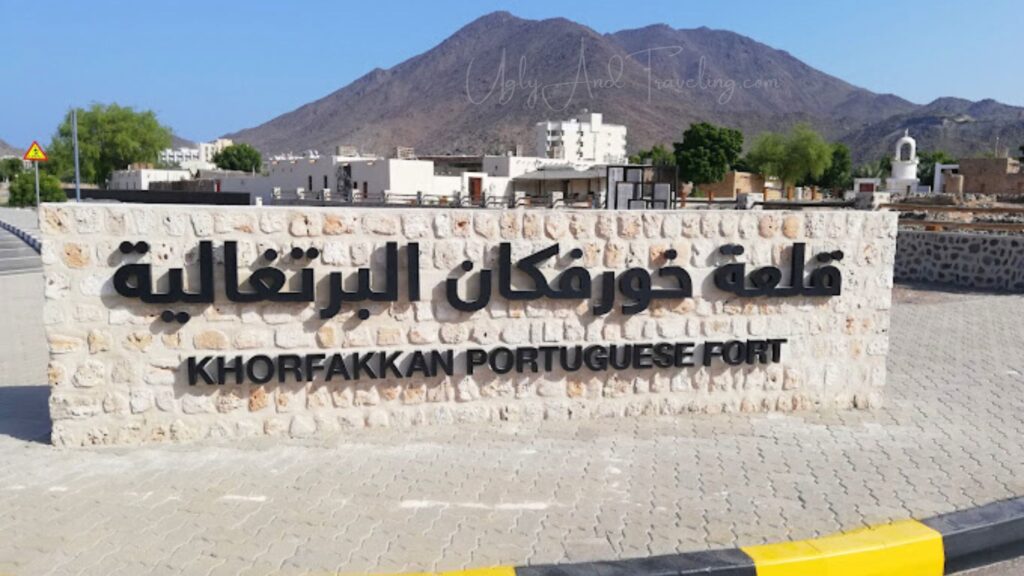 The Portuguese Fort is one of the oldest historical sites in Khorfakkan. The fort was built by the Portuguese on an island off the coast to control access to Khorfakkan harbor. The fort is a square structure with four bastions, a moat, and two gates.
In 1519, during the reign of Sultan Hormuz, a Portuguese fleet arrived on the shores of Khorfakkan and began to build a fort. The project was completed in 1523 and the fort was named Santa Cruz. It was one of two forts built on either side of the creek that divided Khorfakkan Old Town from New Town.
The fort had many uses over time: it served as a military outpost; it was used as a prison; it was used by merchants to store their goods; it became a school for boys and girls in 1887; and finally, in 1968, the last inhabitants left its walls.
The fort has a small museum that holds artifacts from different periods of history and some information about what life was like for soldiers stationed there. There are also cannons and other weapons on display, which were used by the Portuguese to defend themselves against Arab attacks.
The Portuguese Fort of Khor Fakkan is located on the east coast of Sharjah, United Arab Emirates (UAE).
Khorfakkan Beach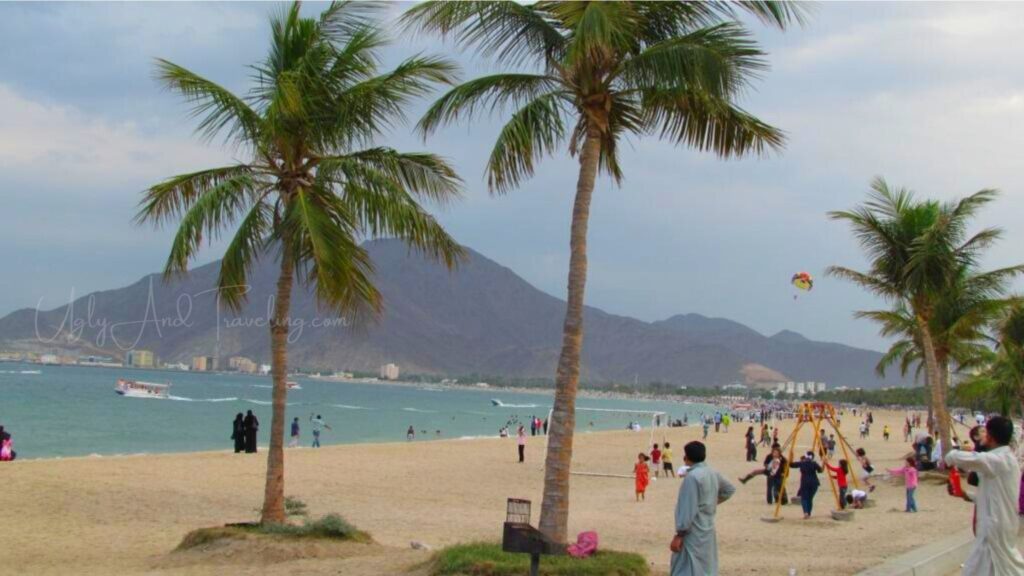 The beach is a popular destination for tourists who want to enjoy the beauty of the beach and have fun. The Khorfakkan Beach has a long stretch of sand, which is great for sunbathing, as well as a swimming area that's perfect for children.
Khorfakkan Beach has many recreational facilities such as pedal boats and water skiing. You can also enjoy a variety of food and drinks at the beachside restaurant or purchase them from the kiosk on-site. It offers many shaded areas with comfortable seating, making it an excellent place to relax during the hot summer months.
This is a beautiful beach in Khor Fakkan that is famous for its boat riding. It's a perfect place to go boating with family and friends.
Beach Parasailing is one of the most popular activities to do on Khorfakkan beach
I would say this beach is perfect for those who love to swim and walk along the shoreline. The water here is relatively shallow, making it great for kids as well as adults.
There are designated areas for families and friends for a barbeque, then this is a perfect spot for you along with boat riding as well.
Al Rafisah Dam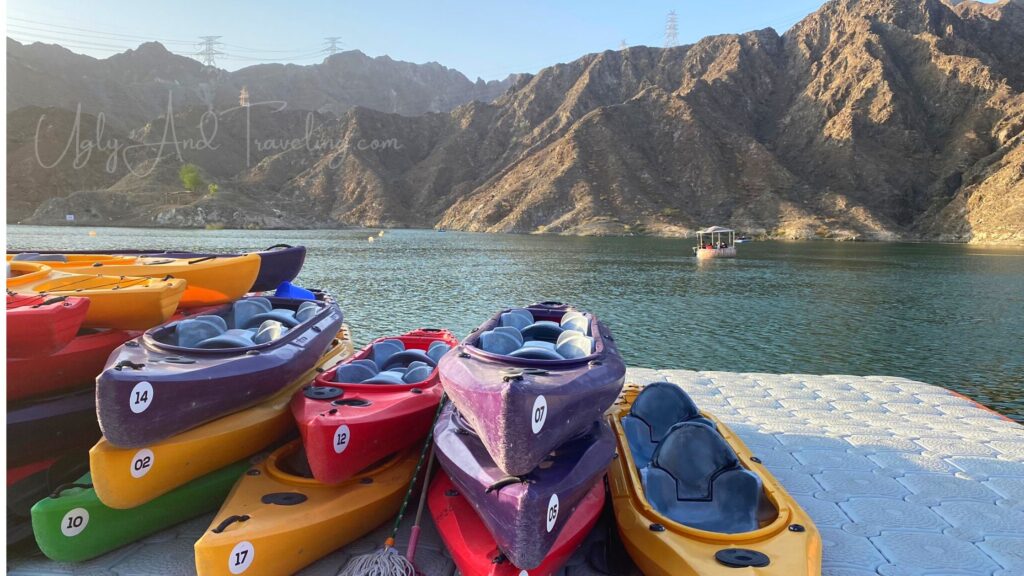 Heading toward Khor fakkan on the new Sharjah Khor fakkan highway opens a landscape of the stunning Al Rafisah Dam. Initially built in the 1980s, the dam has had an upgrade with a new visitor center and rest area.
Al Rafisah Dam is a popular spot for visitors where they can do boating and kayaking. With beautiful scenes of mountains and unspoiled blue waters throughout the year, this spot is a tourist oasis. You would be able to see ducks and deer during the boat ride. There is a cafe, a restaurant, a very small artificial waterfall, a mosque, a supermarket, and a safe play area for kids.
Hisn Khorfakkan Museum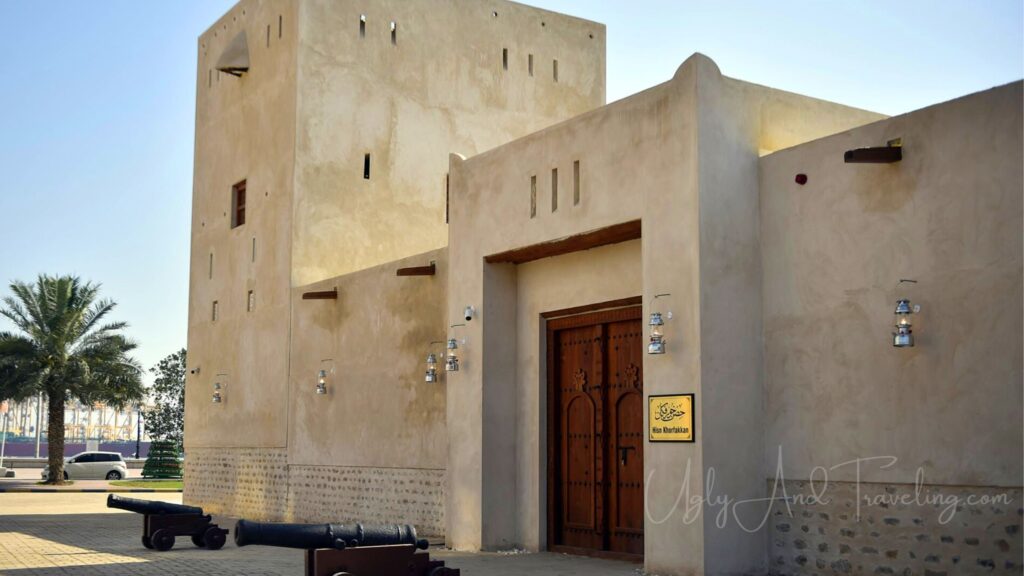 In Arabic, Hisn Khorfakkan means "Fortress of Khor Fakkan." The city was founded by Sheikh Jassim bin Mohammed Al Thani in 1820. It is located on the coast of the Gulf of Oman and has an estimated population of over 50,000. The city was originally known as Hinshuf, which means "the mouth of the watercourse" in Arabic.
The Museum was rebuilt to imitate the 1950s ـــ 1960s design of the original nearby fort, offering an exclusive opportunity for the public to enjoy this outstanding collection. The Museum opened on Saturday, 13th April 2019.
It exhibits various artifacts and items that are related to the history of the UAE and its people. The museum also includes a section for children to learn about the Emirati culture.
The museum displays many exhibits that can be classified as ancient, Islamic, and modern. The exhibits are displayed according to their period of origin. Among these are coins, pottery, and glassware from ancient eras; Islamic pottery from medieval times; paintings and photographs from modern times.
Khorfakkan Square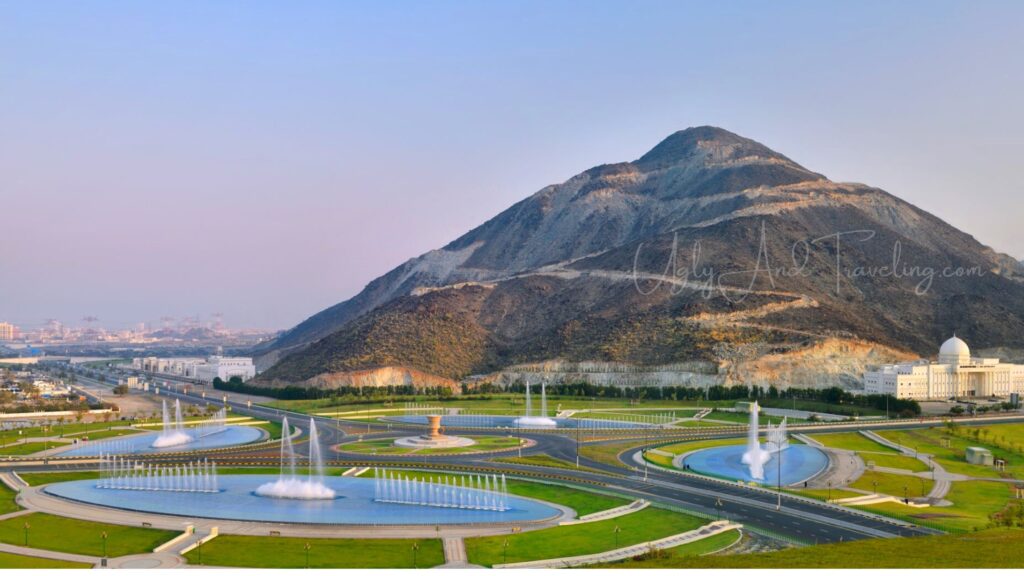 The best place to land a visit, this Square honors national pride, with four extraordinary fountains and landscaped greenery.
The square is the first public space in Khorfakkan and it was designed to be an attractive place for residents and visitors to enjoy. It has a large water fountain at its center that can also be used as a skating rink in winter.
The fountains are amazing and there is also a playground for the kids to play. You can enjoy walking near the fountains where the mist cools down the temperature. Just a breathtaking scene to enjoy your day during Khor Fakkan trip.
Al Suhub Rest Area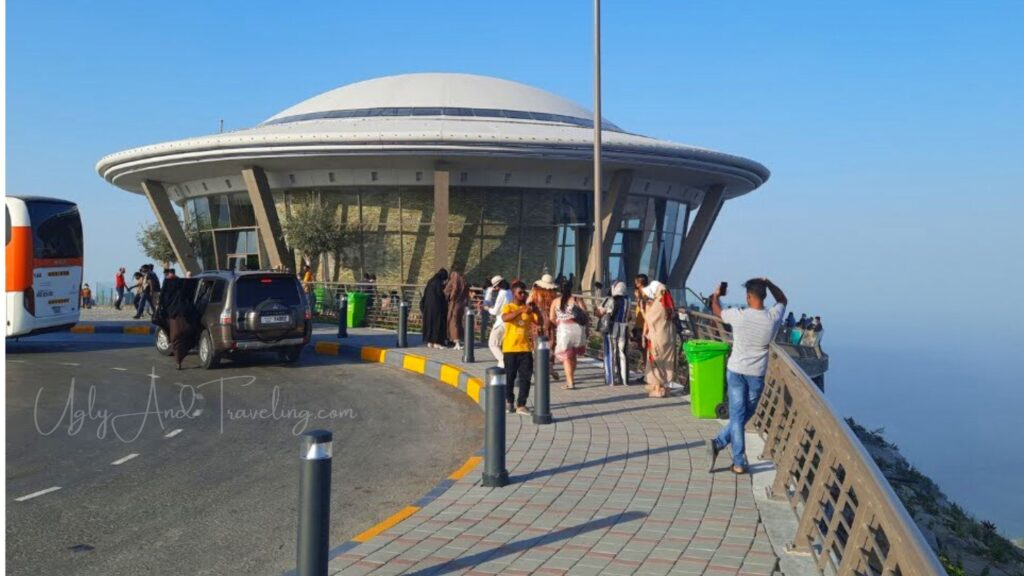 Al Suhub Rest Area is located in the Khor Fakkan area and is a popular tourist destination. A hilltop hangout with a restaurant and play area for kids, plus panoramic views of the city and sea.
You can entertain your moods with 360-degree panoramic views of Khor Fakkan from the top of this hilltop, including the harbor, shores, and mountains. The Fen cafe is a comfort restaurant located 600 m above sea level in the area. But remember if you are not having a meal from the restaurant, you will be charged upon exiting.
For visitors, there is also a prayer room, multi-purpose hall, and washrooms for men and women.
I would say the views from Al Suhub Rest Area are fabulous and it's worth visiting during your trip to Khor Fakkan.
Wadi Al Wurayah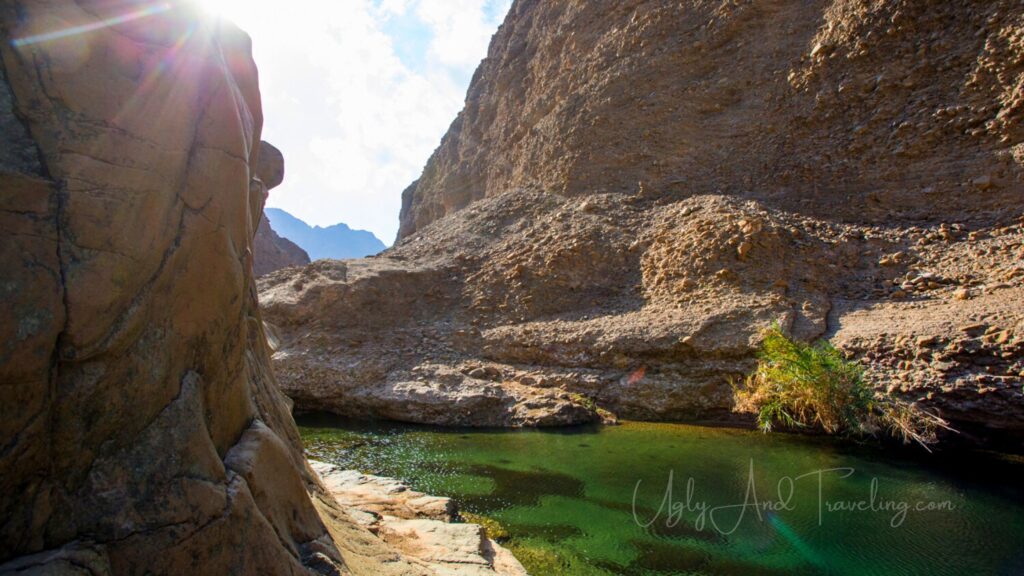 Wadi Wurayah (Wurrayah) the first Mountain Protected Area in the UAE. It is a 12,700-hectare (31,000-acre) wadi (valley) among the towns of Masafi, Khor Fakkan, and Bidiyah in the country.
Also known as the Wadi Wurayah National Park, it has also been designated as a site of Ramsar Wetland of International Importance, which is part of an international treaty on the conservation and sustainable use of wetlands.
There are more than 90 rare bird species in this wadi. It is also home to more than 208 plant species, together with the UAE's native orchid, Epipactis veratrifolia.
Al Rabi Hiking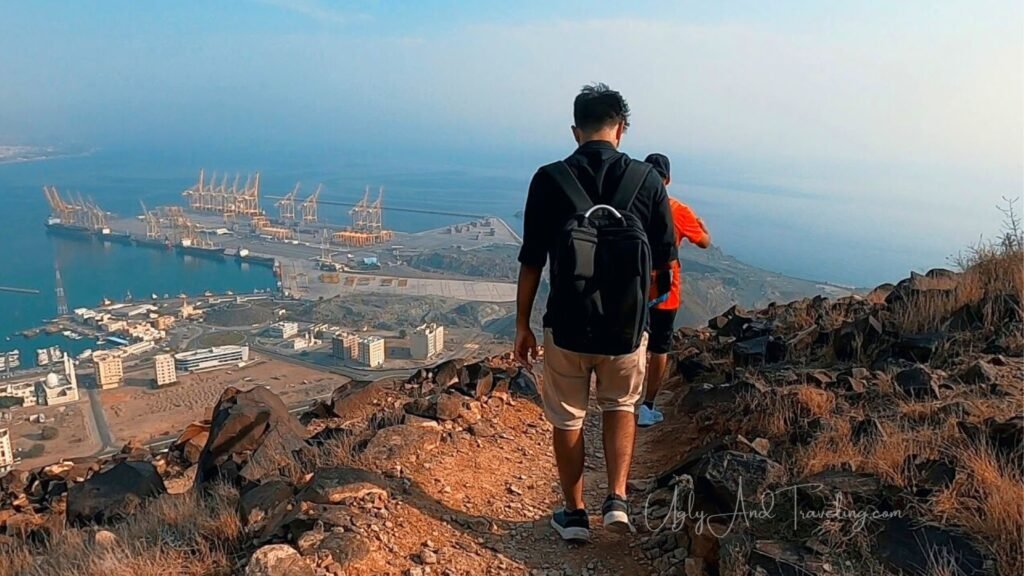 Al Rabi Mountain Trail is a hike that will leave you in amazement. You can expect spectacular views of the ocean and Khor Fakkan mountains as you enjoy a well-built hiking trail.
This trail is visited by outdoor lovers of different age groups and fitness levels. It is one of a few UAE hiking trails that is located in the city of Khor Fakkan, near Fujeirah as well.
This a perfect spot if you like hiking, no rope skills or technical gear is required, and there is nothing technical about this hike for visitors. No wonder this UAE hiking trail is one of the most popular easy hikes in the country.
But remember smoking or drinking alcohol is strictly not allowed on this hiking spot.
The drive from downtown Dubai to the Al Rabi Mountain Trail is roughly 1.5 hours on a picturesque road surrounded by mountains.
Khorfakkan Heart Beach (Secret Beach)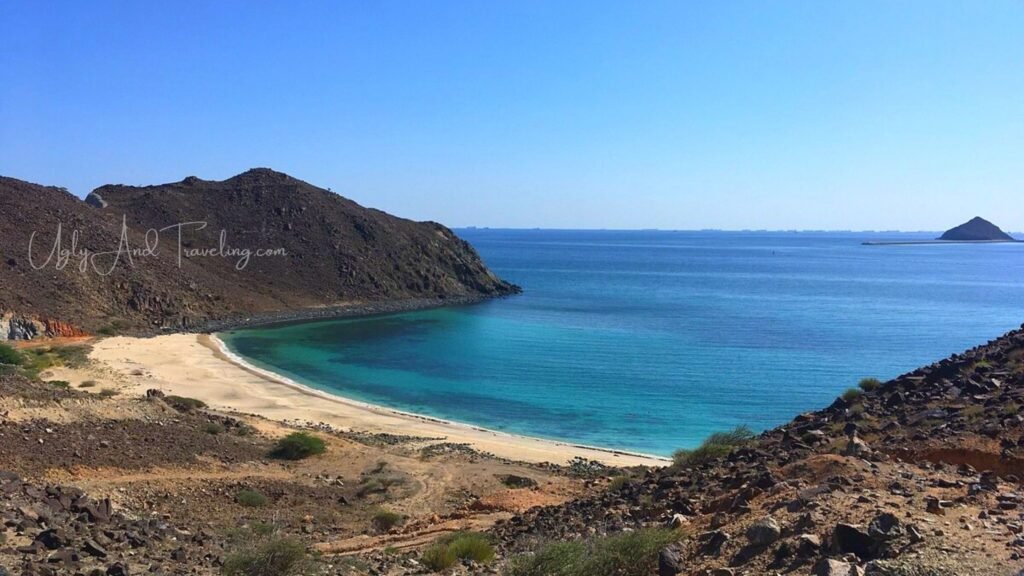 AN AMAZING HIDDEN BEACH. It's a bit of a climb, you need to hike to reach to that secret beach. The hiking trail starts at the north end of the park, goes up over and around the mountain and down to Heart Beach, and then from the beach back around the south end to an empty lot.
There are two routes, a quicker and easier 15 minutes walk to the beach from the gravel road on the right side as you enter the park. You will enter the west end of the beach.
There is another tougher and longer route, steps start from the left side of the park, it's around 1 km of good hike and it descends to the sea on the other side, from there you can reach the beach from the eastern end. Amazing hike and views from the top, especially for the sunrise.
The trail starts from the park located after the Khorfakkan beach/waterfall. You can park the car there nearby the trail. The trail is easy / beginner-level with a clear trail path.
It has about 200m elevation gain and as soon as you start the trail it starts picking up. Once you are at the highest point of the trail you can see mesmerizing views of Luluyah beach, Secret beach, and Heart beach.
You'll need to carry a water bottle with you. Not many people know this place, a secret gem in Khorfakan for sure. Remember there are no toilets or shops, so take plenty of drinking water with you and it's worth visiting.
It's a lovely place to visit when you want to get away from the hustle and bustle of cities. The water is so calm and clear, it's not overcrowded! A perfect spot for snorkeling as well.
I would recommend bringing garbage picking tongs with you and a recyclable bag when coming here for a hike so you can pick up a few pieces of the rubbish while you're hiking to help preserve this beautiful spot.
Importance of Khorfakkan for Sharjah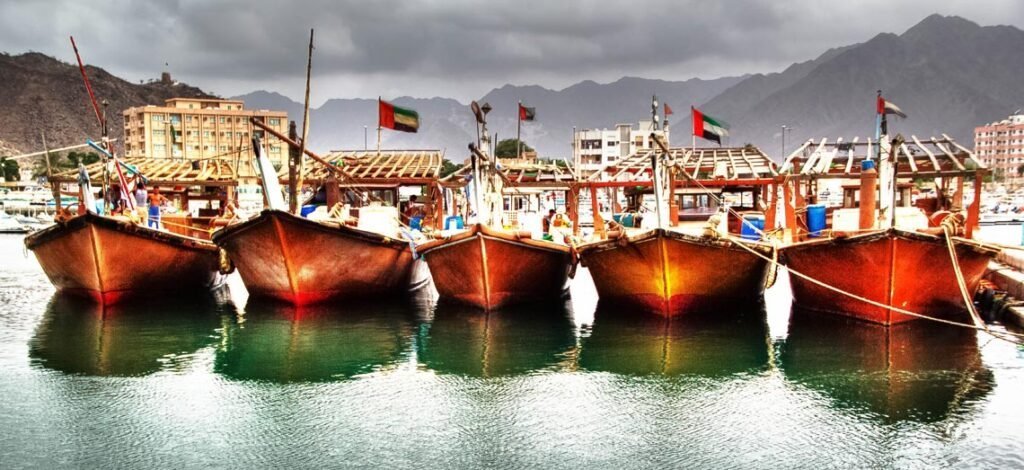 In Sharjah, Khorfakkan has always been an important trading port due to its location on one of the world's busiest shipping routes. The town's harbor was built around 600 BC and has expanded over time to accommodate larger ships.
Khorfakkan Harbour is still used today for exports and imports from all over the world. Khorfakkan was originally a fishing village, but it has been transformed into a modern city with all sorts of amenities. The city also hosts many cultural, social, and sporting events. It is a popular tourist destination due to its natural beauty and scenic landscapes.
Check out my vlog, a road trip to Khorfakkan in 4K!
Please subscribe to YouTube channel to support, leave valuable feedback as well.

If you liked this blog and it was helpful to you, then why not share it with your friends & family.
Or, if you really wanna be extra sweet, then support me by subscribing to my YouTube channel, and leaving your valuable comments under my videos.

For more travel-related information, you can subscribe to this travel blog website by simply entering your email address to get a notification upon publishing a new blog. The subscribe box you can see on the right side of this page. Also if you get an alert on your web browser while viewing my site, allow it and that will also give you an alert on your web browser whenever I publish a new blog 🙂
Traveling with the green ( ?? ) passport ?
Take only memories✈️leave only footprints?
Click here to check out my YouTube Channel and One Magic link of all my social media accounts
Stay safe & much love!❤️
Spread the love if you liked my blog